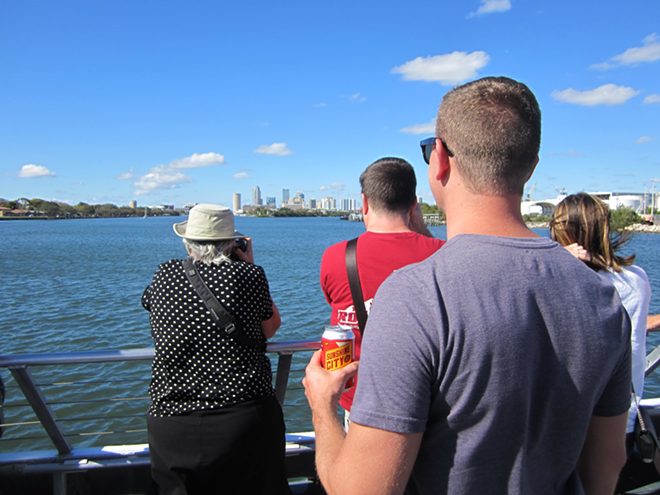 I wanted not to like the Cross-Bay Ferry.
Boosters say the six-month pilot will whet the public appetite for a permanent water link, easing transportation woes. A politico's pipe dream, I groused. The chirpy Times reporting irked me. A beautiful 50-minute crossing, the paper gushed. Free wi-fi! Craft beer!
But limited service and steep fares limit commuter use. (Bulk and discounted tickets are available.) And who doesn't sell craft beer? I can buy Cigar City at Publix.
Even more nettling? The subsidy.
British Petroleum paid out $20 billion after the disastrous 2010 Deepwater Horizon spill. Tampa, St. Petersburg, Hillsborough and Pinellas Counties split the ferry's $1.6 million tab, tapping into the BP funds. Shouldn't that money have gone toward the gulf?
I bought four tickets online, full price, for a Saturday 2:30 crossing. My spouse Julie and I had promised my brother and sister-in-law a Tampa adventure for Christmas. The trip, with service charge, rang up to $84.
We boarded the catamaran, Provincetown 4, behind the St. Petersburg Museum of History. I got a Sunshine City IPA and a Corona for Julie; my brother and sister split a half-bottle of Cabernet.
These were not cheap drinks — not for me, not for taxpayers, not for the gulf.
Pinellas County received $7.1 million in lost tax revenue from the BP suit.
The county itemizes 30 funded projects on its website.
A handful will improve the gulf habitats; most will not.
Pinellas earmarked a million dollars for sewer improvements, $100,000 for the Tampa Bay Estuary Program. Other lines, vaguely environmental, smack of pork. Bike shares, a nature trail in Largo. A parking lot for the East Lake Library, help for teenage women aging out of foster care — worthy causes, though stuff a government should already provide.
From Louisiana to Florida, BP projects have ranged from the worthwhile to the obscene. Louisiana showed surprising restraint, NPR reports, sinking millions into coastal restoration. Mississippi blew $15 million on a stadium for the AAA Biloxi Shuckers. Alabama dodged a court stay and built a multimillion-dollar conference center in Gulf Shores.
And the Cross-Bay Ferry?
Travel on the water can flip perspectives. I have lived in St. Petersburg since 2001 but have never approached Tampa from this direction. As we neared our destination, I walked out onto the aft deck. I drained my IPA and took in the growing skyline. Dare I say it? I felt a buzz of excitement.
We had 3:15 reservations for Ulele. Julie flagged down an Uber near the Convention Center. We arrived at the restaurant 30 minutes late, but before we could grab a drink at the bar, our table was ready.
My sister-in-law, a foodie, avoids Tampa. She hates the parking and the Howard Frankland. A sad truth about life in the bay area: we choose sides, St. Pete or Tampa, Clearwater or Gulfport. I rarely wander down to Sarasota.
At Ulele we shared rounds of roasted oysters, corn muffins, okra (fried long ways) and calamari. We washed down a late lunch with beer brewed on-site. We paid the check and strolled back for the seven o'clock.
Confession: I warm slowly to big government projects. When Tampa's Riverwalk was still on the planning board, I paddled the Hillsborough with then-Mayor Pam Iorio. I asked the mayor, why sink $33 million into a Riverwalk? Why not kayak ramps and brown signs along Hillsborough Avenue, reading "River Access, Next Left"?
Time has proven me wrong on Riverwalk.
As we moseyed back to the Tampa Convention Center, cyclists wheeled by on blue rental bikes; young parents pushed strollers, joggers jogged, skaters tested gravity.
We lingered on a creaky swing by the Laurel Street Bridge and posed for sunset selfies by the University of Tampa minarets.
We caught the ferry with 15 minutes to spare.
As the P-town 4 pulled into Vinoy Basin, roles reversed. Newbies from Tampa explored an unfamiliar downtown. I helped a stranger find the public restroom. I considered sending a couple past the restaurants on Beach Drive, to better and cheaper eats up Central.
I caught myself.
Let folks learn a city for themselves.
We should be struggling with the ferry. The BP suit offered a one-time chance to correct a century of wrongs in the Gulf of Mexico. Faced with restoring ecological balance or political pork, politicians chose pork.
Tampa Bay boasts a long history of boondoggles. The P-town 4 returns to its regular service in Boston at the end of April. A short-lived boon, to be sure.
I was wrong about Riverwalk 15 years ago. The ferry took my St. Pete loyal sister-in-law to Tampa. Ulele was delicious. Our cities look magical from the water.
Did our elected officials blow $1.6 million on a temporary amenity? Or maybe, just maybe, did they do something right?
Ride the Cross-Bay Ferry, Monday-Thursday, for $5 through March 31. Free trips, third Sundays.