The city of St. Petersburg cut off my reclaimed water last week. Code dictates that reclaimed water must flow through purple pipes and hoses, with underground hookups, to avoid confusion with potable water.
Fair enough.
My infraction started innocently, then spun into a full-blown violation. I was using the purple hose for my parched easement. The easement thrived. I got enthusiastic. I hooked the reclaimed to a rainbow sprinkler through a standard green hose. A definite no-no.
My blanket flower, fresh from the local nursery, drank in the poopy-smelling water. Scraggly beach sunflower and scorpion-tail exploded. And the grassy spiderwort, a beautiful purple morning bloomer tipped with yellow stamen hummed with pollinators.
Native plant evangelicals will tell you why we should grow Florida natives. Less water, biodiversity, no maintenance — blah blah blah.
But I have my own reasons. I love the stories. Especially spiderwort.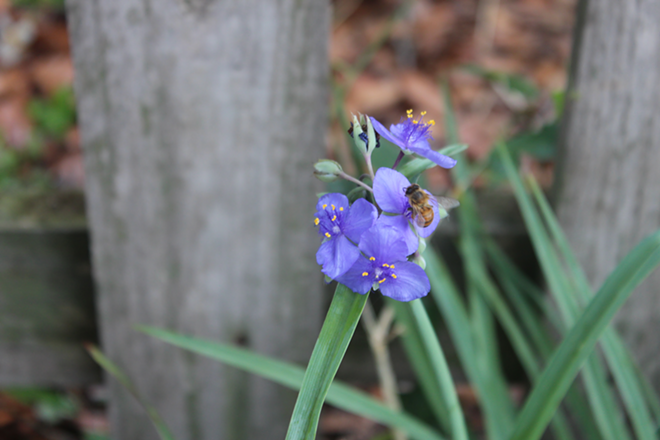 Tradenscantia virginiana, or spiderwort, takes its name from John Tradescant. The younger Tradescant was (like his father of the same name) botanist for King Charles I. The two Tradescants traveled to the ends of the empire, bringing home exotics.
The elder botanist, friends with John Smith of Virginia Company fame, set up a museum outside London, a Wunderkammer or curiosity cabinet, known as The Ark.
The Ark put Nature on display. Visitors entered the museum through a pair of whale ribs, into a collection that featured flora and fauna from around the globe, a mermaid's hand, a bark canoe, parts of a mummy, and requisite splinter of the cross.
In the late 1630s the younger John Tradescant traveled to Virginia. He returned with an enormous shell cape that belonged to the father of Pocahontas, or Powhatan. He also brought back spiderwort.
Cape and flower have been linked ever since. A book sitting on my coffee table claims that both plant and Indian princess sailed to England on the same boat. The website Eat the Weeds says Pocahontas gathered specimens for Tradescant.
The dates, alas, do not check out.
Pocahontas was less than 10 when Jamestown was settled, in 1607. Her name translates to "little wanton," a word that meant "playful" or "sport" in the 17th century. She taught English boys how to turn cartwheels. Colonial observers guessed her age (ick) while she did gymnastics.
In 1608, the story goes, Pocahontas rescued John Smith. Popular lore says she acted out of love. Historians bristle at the myth. Some scholars say Smith had fallen into an adoption ceremony. (Think Stockholm syndrome in neck ruffs.) Others doubt whether the "rescue" happened at all.
In 1613 Pocahontas became Virginia's most famous export. (This, we know for certain.) Kidnapped onto an English ship, she was married to John Rolfe and presented in London as part of a marketing campaign for the Virginia Company. Boosters hoped the "converted" Indians would prove the colony's worth as a religious mission.
The young "princess," now Lady Rebecca Wolfe, was the talk of the town. She attended the theater and had her portrait made. She re-connected with John Smith in a bitterly truncated interview.
But life was short in this more septic era. Pocahontas contracted what one scholar believed to be the "bloody flux," a form of dysentery that has disappeared now that we are more careful with human feces.
After her London misadventure, John Smith revised his story about Pocahontas. Previously a non-event, the 1608 rescue became an alternative fact. Then a myth.
Disney made a movie.
The story of Tradenscantia virginiana, like Pocahontas, is the exotic on display.
People mow down their spiderwort, which I will never understand.
Each morning before sunrise, I walk my dog past sprinkler-fed lawns.
The concrete donuts around the sprinkler heads crack. The nozzles split open, shooting geysers of protozoan-rich water down the gutter and into the bay.
I resent having to cede a slick, mossy sidewalk for the sake of St. Augustine grass.
My neighbors call me a plant snob. Guilty as charged.
Each plant on my easement tells a story. I harvested the scorpion-tail (a note in my field guide tells me) from the yard of my funky neighbors, Mike and Janice, in 2010.
My coontie came, male and female together, in the same pot. I rub the cones each February, sing some Donna Summer, "I Feel Loved," and now my two coontie are a tribe.
The prickly pear reminds me of Cabeza de Vaca, the famed conquistador who shipwrecked here in the 1520s. Cabeza de Vaca survived for an entire season off purple prickly pear fruit. When my wife unknowingly picked up the gloves I used to collect the fruit, she caught cactus bristles in her fingers. I had some explaining to do.
Someday we will sell the house in our gentrifying neighborhood. The new owner will replace my garden stories with Chemlawn. I brace myself for the heartbreak.
Why mow spiderwort, I want to know.
Why not paint with all the colors of the wind?