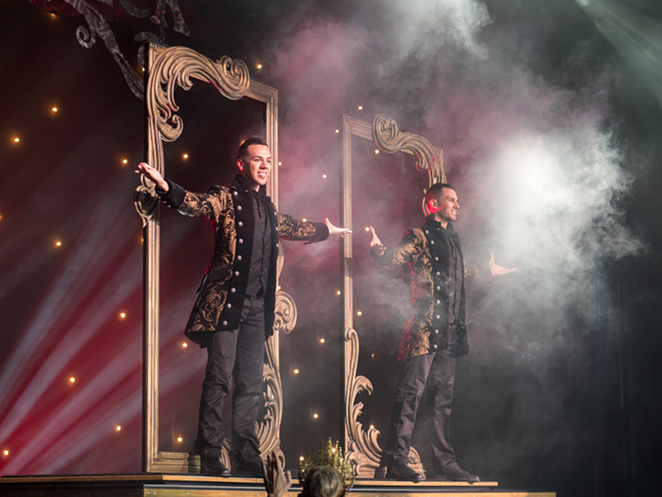 Magicians and husbands Chris and Ryan Zubrick are permanently anchoring their family-friendly act in St. Petersburg, with the scheduled summer opening of Zubrick Magic Theatre at 1211 1st Ave. N Suite 101.
The Zubricks, who met in Michigan in 2005, both had been practicing and performing magic at an early age. They soon created a two-man show, and as they told the Gays with Kids website, "we had chemistry on stage and off, and the rest is history."
The Zubricks performed their show for 12 years in Saipan—the largest of the Northern Mariana Islands, a 16-hour flight from Manila—and Guam where they won "Best Family Magic Show" by the International Magicians Society (some people say the away is the equivalent to an Oscar in the magic world).
The 70-minute show features grand-scale illusions, sleight of hand tricks and audience participation. By the looks of it, all the accoutrements that one would expect from a magic theater are present: fog, lamé, white birds, sequins and a scantily clad assistant.
I think the Zubrick family is going to turn around my loathing of magic that I've had for the last decade. I knew a magician once, in fact dated one, and it didn't go, or end, well.
I know first hand magicians hate when you ruin their illusions.
I'll tell the Zubricks what I told my ex, you can't get mad at someone for ruining your sleight-of-hand card trick when you are doing it at 2 a.m. at The Hub. Don't go bringing your magic into bars people, stick to the theater like the Zubricks.
And I'll tell you Creative Loafing Tampa Bay readers, what I've told anyone who will listen since the magician dumped me: don't date a magician unless you are also a magician. The only thing they'll make disappear is your sex drive. Boom.
And never, ever date a magician that is also an aspiring clown. Because after they dump you, and move to New York, you might have to overnight clown shoes for a commercial they've booked. And nothing makes a breakup worse than holding a pair of your exes clown shoes while drinking a bottle of Pinot Grigio. This is, sadly, a true story.
Tickets for the show are $40, or $117 for two VIP front row seats. There will be movie theater-style snacks available plus beer and wine for purchase. More information is at zubrickmagic.com.
Support local journalism in these crazy days. Our small but mighty team is working tirelessly to bring you up to the minute news on how Coronavirus is affecting Tampa and surrounding areas. Please consider making a one time or monthly donation to help support our staff. Every little bit helps.
Subscribe to our newsletter and follow @cl_tampabay on Twitter.