We all know we're deep into the golden era of television and in 2016, TV is still strong as ever. Broadcast television, Netflix, Amazon, and a variety of streaming services can make even the most dedicated binge-watcher struggle to keep track of when favorite seasons are returning or when some of the most anticipated new shows are dropping. Fret not, dear readers. I've pillaged the foray of schedules with a fine-toothed comb and pared the list down to the absolute essentials. So if you're looking to watch some good TV keep your eyes peeled for this week's top picks.
BasketsComedians Zach Galifianakis and Louis C.K. team up to write and co-create this new goofy dark comedy about a failed clown. Galifianakis stars as Chip Baskets who, after flunking out of a prestigious clown school in Paris, takes a dead end job as a rodeo clown to pursue his dream against all odds. Premieres Thurs., Jan. 21 at 10 p.m. on FX.
DC's Legends of Tomorrow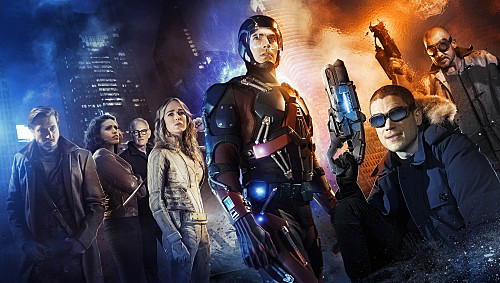 A spinoff of Arrow and The Flash, we find the DC version of Marvel's Avengers in Legends of Tomorrow. It's the year 2166 and the world is in chaos thanks to the immortal villain, Vandal Savage. Master time traveler Rip Hunter heads back to 2016 to round up a rogue team of DC superheroes – comprised of both halves of Firestorm (Victor Garber as Martin Stein and Franz Drameh as Jax Jackson), The Atom, White Canary, Heat Wave, Captain Cold, Hawkgirl and Hawkman – in an attempt to save the fate of the world. Debuts Thurs., Jan. 21 at 8 p.m. on CW.
Mad Dogs

With Amazon rolling out solid hit series like
Man in the High Castle
and
Transparent,
the next-in-line release of
Mad Dogs
is definitely worth a view. Based on the critically acclaimed UK series of the same name, the show follows the reunion of a group of long-time bros, now in their 40-somethings – played by Steve Zahn (
Dallas Buyer's Club
), Romany Malco (
Weeds
), Michael Imperioli (
The Sopranos
), Ben Chaplin (
The Thin Red Line
) – who visit an old friend (Billy Zane) at his vacation house in Belize. They find that paradise is not all it's cracked up to be, secrets are revealed, and chaos ensues in this dark psychological thriller.
The 10-episode season premiere of
Mad Dogs
will be available to stream Fri., Jan. 22 at 12:01 a.m. on Amazon Prime Video
.
Chelsea Does Chelsea Handler's back in a four-part Netflix documentary series, directed by Eddie Schmidt (This Film is Not Yet Rated). The series comprises marriage, racism, Silicon Valley and drugs – all of which Chelsea does. Fear not for lack of content as Chelsea hilariously exploit lots of other stereotypes in a Borat-style investigative manner which Handler says aims to be a "younger, cooler 60 Minutes." Or, just a much more watchable series than the Chelsea Lately gab show with which some may have grown (uncomfortably) familiar. Chelsea Does premieres Sat., Jan. 23 at 12:01 a.m. on Netflix.
The X-Files
Mulder and Scully are back. Fourteen years after the series' last run, David Duchovny and Gillian Anderson reprise their roles in a six-episode revival series written and directed by the show's original creator Chris Carter along with veteran writers from the original show. Guest stars include Joel McHale (Community), Robbie Amell (The Flash), Rhys Darby (Flight of the Conchords), and William B. Davis as the "Cigarette Smoking Man." The truth is out there. Need we say more? The X-Files debuts with a special two-night event beginning Sun., Jan. 24 at 10 p.m. following the NFC Championship Game, and will continue in its regular time slot on Mon., Jan. 25 at 8 p.m. on Fox.

Ying Lo writes about television and entertainment for Creative Loafing. She also has a blog,Ying Lo, and ranks second best in Florida in HBO's Girls and Pop Hits of the 90s, according to the trivia app QuizUp. Let her tell you how best to binge watch every Monday.