"I've come in peace to turn the tables,
the new sound made
when breaking the cycle"
Sometimes my life feels like a record spinning in one direction. The same patterns, the cycle of karma. I've learned that in order to transform the patterns that cause me suffering, I have to deal with my past. During this pandemic, I've realized the value of staying in an uncomfortable space so I could face issues within myself that I had buried under the noise of "normal" living. I decided to embrace my discomfort as an opportunity.
I remembered how I had told someone about a year before, how I felt disconnected from my own body due to a series of traumatic experiences. Repeated experiences of being violated caused me to not feel at home in my own body. At the time, I wasn't ready to delve into what that meant nor take the action to overcome it. Now, based on some encouragement and self-reflection through my daily SGI Buddhist practice of chanting the phrase "Nam-myoho-renge-kyo," I saw "staying at home" as a metaphor to me staying in my own body. I began taking better care of my physical health. I spoke up whenever I felt even slightly disrespected. I wrote a letter addressing a family member about them sexually molesting me in my childhood. It was one of the hardest things I've ever done. Finally, I had arrived at the point where I had developed enough self-esteem to acknowledge the trauma I experienced and speak up about it. My actions to confront my childhood trauma took place around the same time that George Floyd was murdered by police officers.
Immediately, I felt connected to the righteous outrage and protests that began taking place in response to this injustice. While on the surface, what I was personally dealing with appeared to be separate from the wider societal issues, I saw how on both the micro and macro levels, we were collectively interrupting our cycles of suffering by speaking out against violations imposed upon our bodies. Similar to when a DJ puts their hand down to stop a record spinning in one direction in order to create a new sound, we are transforming our karma.
Historically, Black people and women are taken advantage of and silenced. As a Black woman, I feel and carry the pain experienced by my ancestors and community alongside my own experiences. I write poetry as a way to make sense of these experiences and to share my voice with the hope that it will contribute to positive change. I recently completed writing my debut full-length poetry collection titled "Record" in which I speak about my experiences as the reincarnation of the divine feminine figure who originated in Africa and has over time, been mistreated and ignored but who now speaks for myself. Together with the Black Lives Matter movement, I now step forward to reclaim my body and amplify my voice.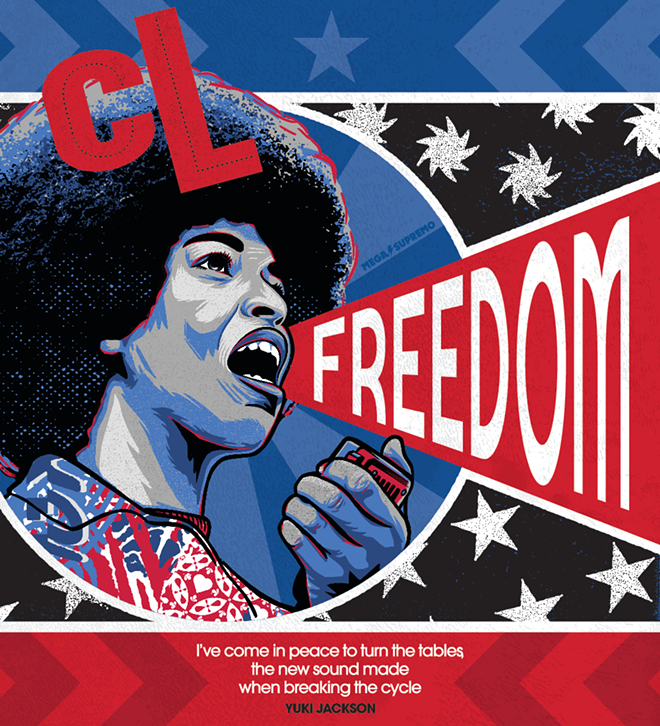 Editor's Note: This week's cover is by local artist David Cabassa (@megasupremo) and Battleground co-founder Yuki Jackson. Bookmark yukijackson.com. Follow @yukijacksonpoet on Instagram and Twitter.
UPDATED: 07/02/20: Updated to show the non-contracted mantra "Nam-myoho-renge-kyo."
Support local journalism in these crazy days. Our small but mighty team is working tirelessly to bring you up to the minute news on how Coronavirus is affecting Tampa and surrounding areas. Please consider making a one time or monthly donation to help support our staff. Every little bit helps.
Follow @cl_tampabay on Twitter to get the most up-to-date news + views. Subscribe to our newsletter, too.