This year, Tampa's Jobsite Theater celebrates its 20th anniversary as a theater company. CL talked to Jobsite artistic associates David Jenkins, Spencer Meyers, Katrina Stevenson and Paul Potenza about their favorite performances, their best memories, and what they are most looking forward to this season.
This is part two in a series about Jobsite; read part one here.
Jobsite's veterans had way too many memories and favorite performances over 20 years to narrow it down to just one or two. These are their stories, slightly abridged, in their own words.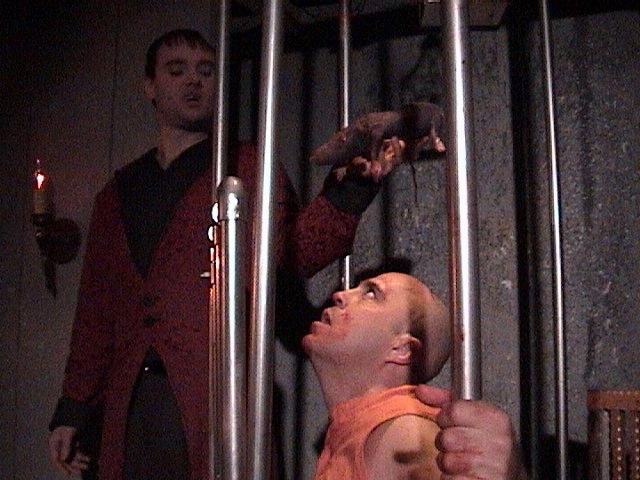 Dracula, 2001-02
"Probably the most fun I've ever had was playing Renfield in Dracula... We ran it through Thanksgiving. It was, and it still might be, one of our biggest sellers of all time, and absolutely a blast. David directed it, and the set we had in there was ginormous. It was sort of a fantasy for me because I grew up with all the Universal Monsters..." —Paul Potenza

The March of the Kitefliers, 2006-07
"We had people literally quitting their fucking jobs after watching this play. Like, people deciding to make life changes, because they're like, 'You know what? That play's right. Fuck it, I'm giving my boss notice, or I'm going to go back to college...' One of the buzz phrases from the show was, 'Whatever happened to the dreamer inside of us?' It inspired all of us to push forward and push harder with what we were doing with Jobsite, and it inspired audiences too..." —David Jenkins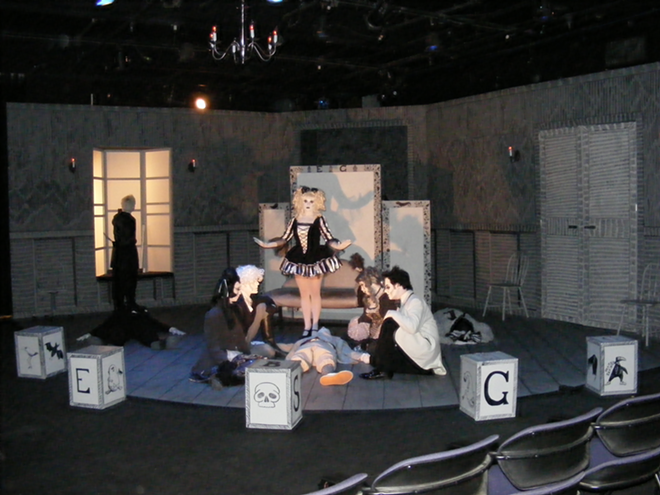 Gorey Stories, 2007-08
"It was all done in black and white — that's what Gorey's work was. So the entire set looked like a sketched interior by Edward Gorey. The costumes were all kind of stolen and inspired from his work, and the actors were in white face with black makeup and wigs of black and white and grey. I was in the show as well as I designed it. Opening night, the lights come up at the very top of the show. No one had opened their mouths yet, and there was this collective intake of breath from the audience, just at that tableau of lights up on this black and white world. You could just feel all of the actors go, 'wow,' and the audience was just stunned by it... It was kind of the first moment that I really felt like, 'Damn. We're a force.'" —Katrina Stevenson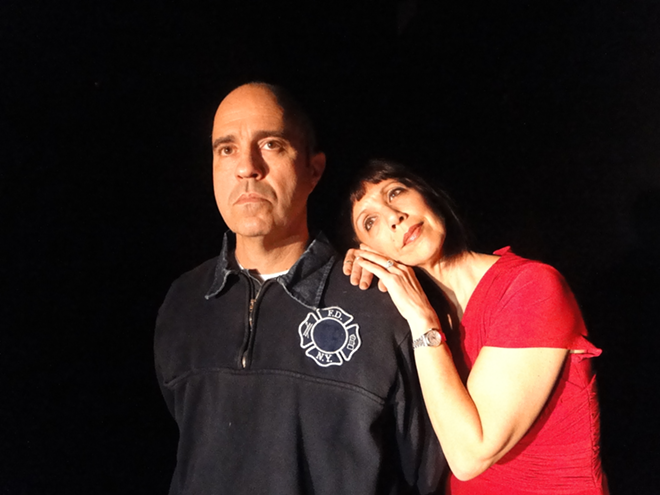 The Guys, 2011-2012
"The play is based on a true story by Anne Nelson. In it I play a fire captain named Nick Flanagan, who is faced with the task of writing eulogies for eight of his men after 9/11, and he cannot. So he enlists the help of a writer. It's the story about the one afternoon they spent talking about the guys. It's a pretty powerful piece of theater. I'm from New York City. My brother-in-law, who means the world to me, is a firefighter. It rang home. It was something I could do to help a little bit. It was a cathartic experience." —Paul Potenza

The Lonesome West, 2012-13
"The play was a comedy — it's a super, pitch-black dark comedy. I was the more evil of the two brothers... I got to destroy shelf after shelf after shelf of Catholic saint figurines every night with the butt of a shot gun. And then at the end of the play, I turned the shot gun on the stove that the brother had bought and brought home, and fired both barrels into the stove, making it explode. Oh my God, it was so fun. There was another moment in the play where I get into his potato chips, and he's freaking out. He's chasing me, trying to get the potato chips from me. I ran and grabbed two big bags of potato chips, like Stone Cold Steve Austin, and smashed them together, and then just showered myself in them. And he's, like, tackling me, and I'm literally crawling on the ground, with him on my back, shoveling handfuls of potato chip, dust now, in my mouth. The show is just such a mess..." —David Jenkins
Hedwig and the Angry Inch, 2013-14
"In the show, I ad lib with the audience quite a lot, and I'm a little foul, and sailor-mouthed, and hyper-sexual as a character. There's a lot of innuendos, and some that are outright — I'm just saying it.
There was a miming of sorts I did with my hand [miming a handjob]...
There were four elderly women right next to me, who were about the age of my grandmother, and all of them were laughing except for one, who just kept on shaking her head, saying 'no, no, no, no.' So I look at her, and then the audience laughter stopped for a moment. I pointed her out and was like 'don't act like you've never done that before,' and then she was mortified. And the audience was laughing because I just pointed out this elderly woman doing something sexual. She put her head in her hands, and lifted up her head right when the audience laughter died down, and said 'I have!' And then I lost it. It was the funniest thing in the world to me. The beautiful thing about Hedwig is I've been told I'm allowed to laugh, and I could not hold it back, because I thought, 'Oh, I was just joking and you've done this. OK.' But it was fantastic. It was like the Golden Girls happening, in real life, right in front of me..." —Spencer Meyers, aka Hedwig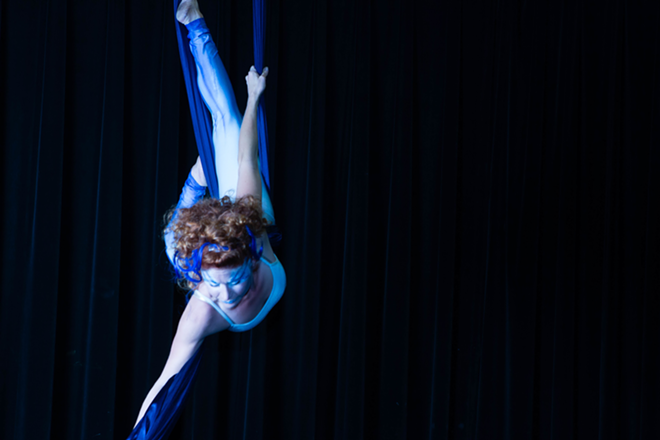 The Tempest, 2017-18
"About six months before, right about when I was composing in my mind how would I ask David, or let him know, that I really really wanted to play the character of Ariel, the air spirit in the Tempest, he asked me if I would like to do it. And I was like, What?! This is fate. And then he's like, 'I have this thought. What if Ariel was airborne? You know, like Ariel's aerial.' And I kind of did that, 'OK, great. I'll go take a class and let you know how that goes.' At the time, I was 41 and, you know, I run — I keep myself in decent shape, but that's like hardcore gymnastics in the air. But I absolutely fell in love with it." —Katrina Stevenson
Read part three here.