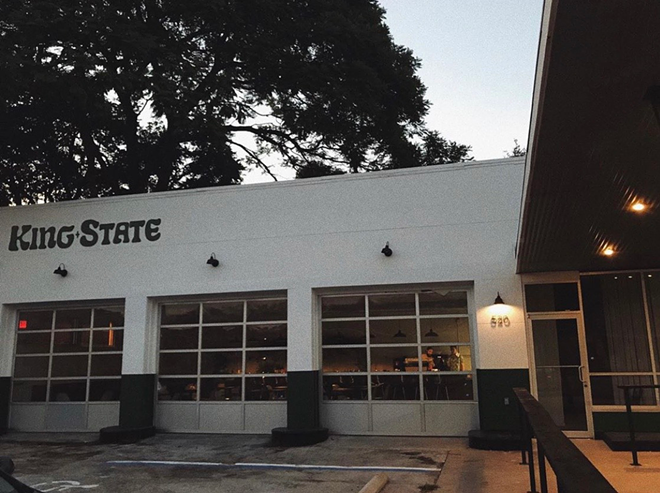 It has been a long time coming, but King State's first brick-and-mortar is finally scheduled to open next week.
UPDATE June 18 This Friday, June 21 King State will host a private friends and family event and will open the following week.
Owners, and former bandmates, Tim McTague and Nate Young wanted to expand their cult coffee brand into a fast-casual joint offering up craft brews and bites. The specialty coffee roasters are calling a renovated building stationed at 520 E. Floribraska Ave. home, and are excited to finally be able to share the project with the community.
The pair will be pouring 16 taps, 10 of which being their own, with the help of friend and head brewer Aric Parker. A selection of wines will also be sold by the glass.
Not only will booze be flowing, but the founders will continue to roast one-of-a-kind blends like Antigua Hunapu Guatemala, which features a flavor profile with hints of blackberry and lime.
Young's sister, Carolyn, will head up the food program. Her mission is to serve up healthier spins on Southern recipes. So come with an appetite.
As far as the aesthetic goes, photos from the cafe's Instagram show a clean layout, with table and bar seating, industrial lighting and greenery behind the bar.
We're suckers for foliage.
Time to get buzzy at King State.
Want to know everything going on with Tampa Bay's food and drink scene? Sign up for our Bites newsletter.