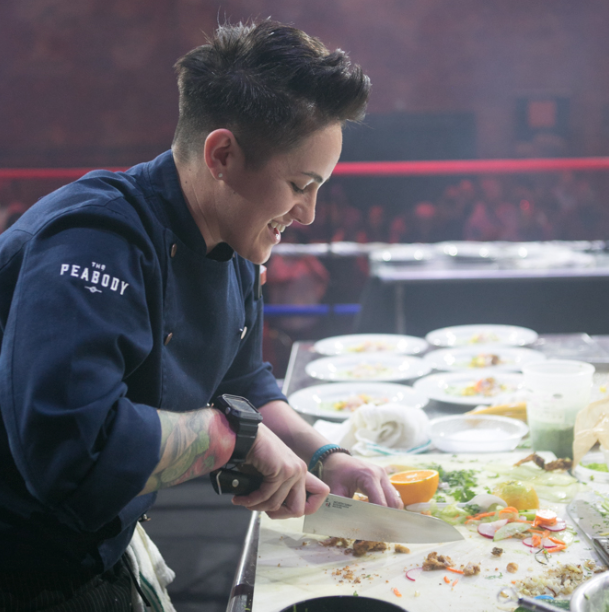 UPDATED 9/5 8:47 a.m.
Next month, The Tampa Bay Food Fight returns to the St. Pete Coliseum for a serious boxing ring showdown featuring 12 Tampa Bay chefs all competing to be crowned the best in the Bay.
WWE superstar Titus O'Neil and Master Chef finalist Jeff Philbin co-host on October 1, from 6:30 p.m.-9 p.m., alongside iHeart Media's Aaron Jacobson and WDAR's Tom "TKras" Krasniqi. Sounds like a lot, but these hosts are necessary to catch every second of the action. The Tampa Bay Rays' DJ Fresh provides the entertainment.
Judges — James Petrakis and Julie Petrakis from The Ravenous Pig and Helen Freund, the new food critic for the Tampa Bay Times — will score the two six-chef teams repping Tampa and St. Petersburg based on creativity, presentation and flavor.
Leading the way for reigning champ St. Petersburg are The Mill's Ted Dorsey (team chairman) and The Library's Rachel Bennett of The Library (team captain) who've taped Jonathan Atanacio (K Club Bistro), Jordan Buendia (Rococo), Jason Ruhe (Brick & Mortar) and Viet Vo (Sekushi) to face off against team Tampa led by Sacred Pepper's Candy DeBartolo (chairman) and James Maita (captain, also of Sacred Pepper). Team Tampa's roster includes Bern's Steakhouse's Hab Hamde, Anne Kearney of Oak & Ola, Adam Polisei of Ocean Prime, Jonathan Wilson of Armani's and Will Stormant of Mise en Place.
These two teams aren't just duking it out for the hell of it either since the Tampa Bay Food Fight's purpose is to create jobs in the hopes of ending homelessness in Tampa Bay. All proceeds will fund 100 scholarships and create 100 jobs for those who attend Metropolitan Ministries' Culinary Arts Program in Tampa, and now also in St. Pete at Tropicana Field through a partnership the nonprofit pulled off with the Rays baseball club.
"Metropolitan Ministries' mission is about alleviating suffering, promoting dignity and instilling self-sufficiency for those who are homeless or at risk of becoming homeless. Partnering with these incredible chefs on the Food Fight gives us a unique and innovative opportunity to raise awareness about one of the leading causes of homelessness which is a lack of marketable skills to obtain employment," Justine Burke, Vice President of Marketing at MetroMin, told CL.
"The event raises funds to provide full scholarships for students who could never afford to attend culinary school and offers them the chance to participate in our culinary program at no cost. They'll have a real chance at a new life. Ultimately, culinary job skills help them obtain employment and lead them to self-sufficiency and a career in the restaurant and food service industry."
Attendees will do good through their ticket purchase and get unlimited bites from 50 restaurants around town. General admission for the event is $125 and can be purchased through tampafoodfight.org all the way up until the day of the event. Don't sleep on grabbing your tickets, this event is known to sell out.
Want to know everything going on with Tampa Bay's food and drink scene? Sign up for our Bites newsletter.