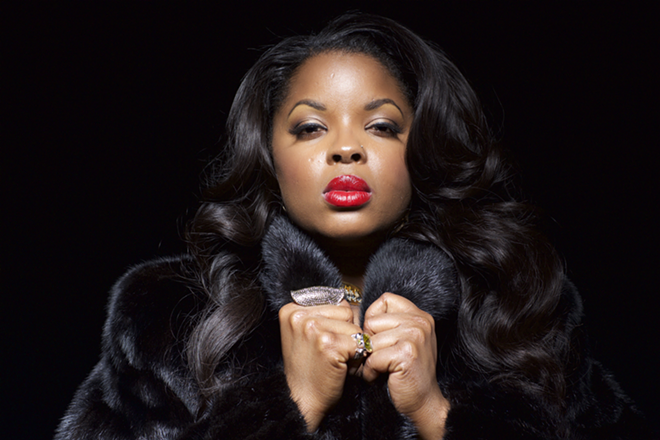 Almost two decades after "Make It Hot" introduced her to the world, former Missy Elliot and Timbaland protegé Nicole Wray is experiencing a classic soul revival that is revealing her truest self.
"I wasn't truly a writer at that point — people were pointing me in different directions, but then I lived my life," Wray, 37 told CL from Atlanta as she made breakfast for her nieces and nephews. She described the ups and downs of major label-dom, and shared stories about working with the Black Keys on their Grammy-winning LP Brothers before linking up with a new band and Brooklyn's Big Crown Records. Those moves changed a career that's seen her write songs for Lee Fields, Kid Cudi and even True Blood on HBO. "I trust [my team] and they know what I can do."
Wray is talking about Daptone Records-affiliated producer Thomas Brenneck, who has helmed records by Amy Winehouse, Charles Bradley, Lady Gaga, Solange and more. Along with saxophonist Leon Michels (Norah Jones, Eric Clapton) and bassist/drummer Nick Movshon (Dr. John, Bruno Mars, Lana Del Rey), Brenneck has helped Wray craft Queen Alone, a classic soul statement that was one of 2016's best albums.
"I know we're gonna make magic because I trust everything they've been a part of. They know my history, but they also see that there is something else in there that the world hasn't seen yet, and they pull that out of me," Wray added. "It's a beautiful thing."
Wray's appearance at Gasparilla Music Festival is one of two springtime dates before she plays Primavera Sound in Barcelona. Not too bad for the girl whose preacher tried to curse her ambition to explore, much less make, any form non-secular music. "I was like 15, he kind of deterred me away from doing gospel music because he was really mean about it."
Wray has abandoned any inclination to prove him wrong, instead focusing on a positive message that she feels is missing from much of the young, black music infiltrating the pop sphere. "The music needs to change. I love some of it, but some of it is becoming so dark, and I am not sure that it is helping the mental state of young black men," Wray said, adding that she always come back to Outkast, who introduced America to southern rap just before Wray emerged with Missy Elliot. "They had a message, and we need to have a message," she said. "We need to come together a little more and use 100 percent of our platform so we can change things around the world."
---
Lady Wray at Gasparilla Music Festival
Sat. March 11, 4 p.m. EST, Curtis Hixon Park Main Stage
Read our full Q&A below and see more interviews with the women of GMF here. See an additional guide here.
---
Hey Nicole, this is Ray from Tampa. I sent you a text earlier, but I didn't know if you got it so I figured I'd just call anyway. Is right now a good time to talk?
Oh yeah, sorry I was just cooking for my niece and nephew.
What's for breakfast?
Well we woke up a little late. We stayed up late last night; they wanted to play some games, Monopoly... toast, pancakes and eggs.
Do they believe you when you tell them you were BFFs with Missy Elliot, Aaliyah, Damon Dash and everybody? Do they know who they are? How old are they?
One is 17 and the other is really young. I show then pictures and stuff like that in their photo albums, so they know.
Are you in Georgia right now?
Yes, I have been in Georgia for almost 11 years now. I am from Virginia.
You have an amazing story, obviously, and I wanted to ask you since you're coming from up there. I wanted to ask you about "Smiling," is that the one that was for Lee Fields? Was he upset that you kept it?
Actually "Smiling" wasn't for Lee Fields. "Do It Again" was written for him, but he wasn't upset. We wrote so many great songs, but that one just didn't make it. We ended up keeping "Do It Again" for the Queen Alone album.
You know, he played the first ever Gasparilla Music Festival six years ago.
Yeah, I saw those photos of him!
This story I'm writing is centered around the fact that the festival you are playing has assembled one of their strongest female lineups ever. On "Smiling" you leave a positive spin on everything terrible that happens on a day-to-day basis, but do you feel any kind of responsibility as an artist — and specifically a female artist — as far as speaking out or about what's happening in America as far as women (and other marginalized communities) go?
Yes, I sure do. When I was younger and just starting with Missy Elliot I wasn't doing a lot of writing — I was just coming into my creativity. Now, as an adult, you know I don't have any children, but I did help raise my nieces and nephews and I do enjoy being around children. There is a strong platform. I do turn up songs and things of that nature, but you know I am not too political, but I am involved and do think our voices are important because when you lay down to go to sleep you wanna make sure and say, "Am I doing the right thing, did I do the right thing?"
Not that I am older, I've been through a lot of things and I've seen a lot of things on my journey, so I do want to use it as a platform to let people know that life is OK, and things are OK, but there are ups and downs, drastic traumatic things that happen in the world and we still can get along if we unite if we do things together. That's really kind of what "Smiling" was about, you know because I am on the road, but when I am off of it I am always with my family. We love to get seafood, barbecue and we talk. And we let them know, you mentioned about my nieces and nephews earlier, and I do take them back on my playlist. My journey, things I've listened to. I think artists should use that platform. You don't have to be too preachy, but it is a breath of fresh air when you do come across some strong songs that do change the world. Artists should use that platform to do better and change the world.
You mentioned laying down and wondering if you did the right thing. I wanted to ask you, because you have kind of come a long way. You've been through Missy, Damon Dash and you even contributed to a Grammy-winning record with the Black Keys. Do you feel like Queen Alone, in the whole scope of your career, is the clearest picture of who you are right now?
Absolutely. Like I said, when I was young I was fresh out of high school and went straight on the road. I wasn't truly a writer at that point, but then I lived my life. That journey, you know dating, obstacles in the business — it makes you cautious. You start being observant. You know when you are and you aren't really observant. You know you have a lot of young artists out right now and they are wobbling in the money, they really can't see that clear path, but the older you get, the more relationships unfold and let you see things a little more clearly. You know, you're like "Am I making the right decisions?" because people are coming at you with all these different contracts, and when you're talented everybody wants you. A lot of people ask how I feel writing for other artists, but projects like the Black Keys project really opened up the whole Queen Alone and who Nicole Wray really was. It was really raw. You know, you go into the studio and there's the microphone. You got somebody playing the drums, someone on the guitar and it took me back to my natural roots because I started in church, and it brought that soul back out of me. So absolutely, Queen Alone is really my story, because so many things are happening on your journey and so many things are happening to you. You know, I was in a group and that was fun.
Lady, right?
That was so much fun, and I don't mind working with other people because they bring out the best in you and it makes you humble because it isn't about you. I felt like that was fun, so was the Black Keys situation. On Queen Alone the label just let me come in and tell my story, let me be whimsical, fun and sexy. Before that I didn't always get that much leeway or say so. When you're young people are always telling you what to do, they pretty much guide you to where they think you should go. So it's a beautiful thing and a blessing to be an adult and be free to write the things that I see through my lens. All my supporters understand and get it. I was a little worried when I started soul music because I didn't know if my fans would get that I am on a different journey now, but I feel so blessed that they do get that I have grown — it's a blessing to be in a pocket where you feel free to express yourself and not worry if you are doing the right thing.
A couple questions about that. That was Baptist Pentecostal Church right?
Yes it was.
Which specific one was that and what town was it in?
It was in a little small town. Portsmouth, Virginia; that's where I was raised and the church was called Holy Light Church of Deliverance. That was my father's church. I don't know if you know the culture of black churches, you know, they do the shouting, it's really cool, a great congregation. If you're looking to network and meet some really good people, I always say go to a nice Pentecostal church. You are gonna get a good message, some good music and you might even get something great to eat afterwards. It's how I was raised. My father sang in church, my grandmother ran the church. She passed away a few years ago, but she was the one that introduced my mom and me to the Baptist church. They don't really do the loudness, they are more about the words. They might take out that hymn book with all the ancestral songs. I was raised in a real religious background, and I thought I was gonna go into the gospel lane when I got a little older, but then my mom took us back to the church that we were raised in and the pastor really didn't like what I was doing so he kinda tried to curse it.
Wow.
It was really hurtful. I was like 15 years old and he kind of deterred me away from doing gospel music because he was really mean.
Well dang, I was gonna ask you some SWV questions, but I guess not anymore.
Oh no you can ask me.
Well I read that you did an SWV cover when you met Missy, and I was going to ask you about your gospel tastes, but it seems like you might have reconciled that when someone decided to curse you on that journey. I just read another thing that mentions how Chance the Rapper's grandma tried to curse him and wish failure on his musical endeavors.
Yeah, when you are talking about religion — you know, older people still look at it all as rock and roll. My grandma was down here, and I thought it was so sweet when she asked me, "Baby are you still doing rock and roll?" I said, "Grandma I'm doing soul." They still call it rock and roll and back in the day they said it was the devil's music, but church has turned around. I mean, you know, you have Kirk Franklin who just performed with Chance the Rapper — which that was amazing — and they blended the two. The world really needs that healing right now. I still go to church. I don't go every Sunday, but when I'm in town I go to Ebenezer, Martin Luther King's church here, a really cool historical church.
Going back to the previous question, you had a great answer and you seem really confident right now. Obviously you've had bad luck in the past, but can you talk about how you feel now that you're running with this Big Crown group? I mean you're working with Tom Brenneck and Leon Michels as far as writing goes?
Absolutely.
You've mentioned your younger days when people seemed to be pushing you in the direction they felt was best. What about now? What artists are guys like Tom and Leon introducing you to as far as your soul and R&B influences go?
When I go to New York or wherever we are, when I walk in the room and I see Leon, and I see Tommy, Nick, all those guys, you know I trust them. This is their niche, I trust them and they know what I can do. They know how to pull out the magic that's inside of me. I don't worry at all when I go into a session with these guys. I know we're gonna make magic because I trust them, their history and everything they've been a part of. And they know my history, but they also see that there is something else in there that the world hasn't seen yet, and they pull that out of me. It's a beautiful thing.
There's definitely something there. When I first heard Queen Alone I didn't know anything about Superfriends and all that stuff, so I was thinking you were a new artist.
Oh wow, I get that a lot.
Real quick, could you tell me who's in the band you're bringing to Tampa?
Good friends from Atlanta, John, Greg, Marquis. I was gonna bring background singers, but don't have any that I feel great about yet, but as we continue to tour around our Primavera festival dates in Spain I will definitely have some background singers out there. These guys are awesome though. They were born and raised in Atlanta, these are church guys.
On "Guilty" you kind of address the struggles of the African-American community because of the song's character and the situation he is in. Is that something you think about in this new administration or is it a "different president/government, same bullshit" kind of situation?
Yeah, I agree that we will always have obstacles and it will always be tough on us, but we have to come together. I am not gonna dog social media, we need it and we need to promote, but I feel like it separates us so much and it affects the mental state of young men around the world. And the music needs to change. We have to come together. I love some of it, but some of it is becoming so dark, and I am not sure that it is helping the mental state of young black men because it is becoming so dark. Chance the Rapper, I love, there are a lot I love. I like Drake, I always go back to Outkast because they had a message, and we need to have a message because we aren't going to change the government — it's always going to be the way that it is, but if we come together and stand strong and not hate on one another and show love, then I think that we will be OK. So that platform when you get in those meetings with record companies and they say 'I'm gonna let you record an album," you can't just record anything. This is your time to shine. We come from a dark place, when it's time to shine you need to do more than take the money and buy jewelry and whatnot. That's OK, but you need to take this energy where we're taking young black kids off the street and giving them millions of dollars, whether it's an NBA situation or record deal or whatever. Some people do try to help out, but we need to come together a little more and use 100 percent of our platform so we can change things around the world.
Aaliyah was one of my childhood favorites. What was your relationship with her like? I know it was short-lived, but you were close. What life lessons did you walk away with after that Superfriends Tour era?
It's so touchy, that situation. It was very short-lived. We were getting into what could have been a beautiful friendship. She just got on the tour. We were doing a summer jam or something in Atlanta, '98 or '99, and she just came on and she was backstage so irritated because she didn't make it to soundcheck. We had a laugh and I said "you're gonna be OK," and she was. Another time on the set of "Make It Hot" she was so nice to me, and she was excited, but God had another plan. Her fan page still posts everyday, and it's beautiful. My nieces and nephews know who she is.
You have a lot of old material sitting around. Who owns it? What are the chances of it seeing the light of day under the Lady Wray banner?
Oh wow, yeah, my manager and I have discussed that. I have shitloads of music from the late '90s — even stuff that André 3000 produced for me when he was first coming up. We had the same manager. I don't know if you remember Nas's Lost Tapes, we're gonna do Nicole Wray lost tapes.
So some hip-hop on there?
Oh yeah, hip-hop, R&B, pop — I have so much music in my catalog it's ridiculous.
Will you play it in the band?
You know, I don't know. We do work "Make It Hot" into the set because I do have some fans that come out from the past.
Well thanks for your time. I hope you niece and nephew didn't eat your food.
Nah, all good. See you soon, have a good day.