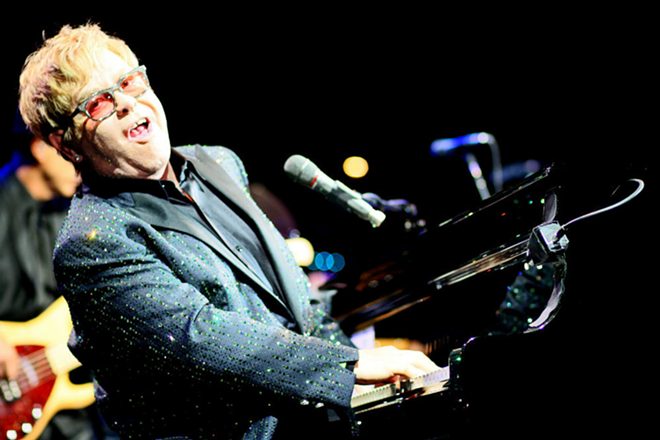 From a personal standpoint, no other pop artist's music can conjure up places, spaces and times from my youth as vividly as Elton John's does. Elton was my first favorite rock star. I can instantly recall the excitement and the rush I felt at age 7 when I first heard his music on the radio. I remember the awe that came over me when I saw photos of his outlandish costumes and witnessed his flair for the outrageous. I recall watching him performing on Soul Train as well as on the Cher show back when seeing cool music performed on television was a rare occurrence. But, for me, the ultimate mind-blowing experience was EJ's scene as the "Pinball Wizard" in the film adaptation of The Who's Tommy in 1975. He and his music were already larger-than-life in my eyes but seeing him donning skyscraper boots and towering over the audience in his sequence of the film was almost more than I could handle as a kid. Needless to say, Elton John was instrumental in solidifying my love of music and my voracious appetite for buying records. The very first album that I scraped up any loose change to buy with my own money was Elton's very first "Greatest Hits" collection when I was 9 years old. And yes, I still have it. [Text by Gabe, photos by DCG.]
So, it's an understatement to say that I was more than a little thrilled to be able to attend and review Elton John's stop on his "Greatest Hits" tour on Friday night, the inaugural show at the newly-revamped USF Sun Dome in Tampa.
John has the luxury of picking and selecting which songs to perform live from his awesome string of career hit singles (undoubtedly a good problem to have), and he wisely chose to represent several eras from his long reign as pop icon on this evening. After a brief opening set consisting of AC/DC and Nirvana covers from a pair of young male cellists (who'd both remained as part of Elton's backing band for the duration of the night), Elton and band appeared on the wide open stage and immediately launched into one of his hardest-rocking songs, "Saturday Night's Alright For Fighting." The packed house instantly rose to its feet. Sporting a black blazer encrusted with green glitter rhinestones and black slacks, Elton was well-dressed for the occasion, as usual. Pounding the hell out of his grand piano and mugging for the crowd at every available opportunity, Elton seemed downright joyous and eager to play for the loud, adoring audience.
Enthusiastic call-and-response crowd participation made the familiar chorus of "Bennie and the Jets" a fun sing-along and the passionate rendition of the rarely-performed "Grey Seal" helped to create the jovial mood of the evening.
Four female backup singers helped to transform "Levon" into a gospel-tinged affair in the much-better-sounding and looking Sundome. While not perfect, the sonics inside the dome were clearer and less muffled than in days past, which really helped make Elton John's catalog shine. The obscure "Holiday Inn" (from 1971's Madman Across the Water album) was preceded by a short anecdote about how, in the early days, that was the chain of hotels the band stayed in when touring the United States.
The anniversary of 9/11 was commemorated with another deep album cut, "Mona Lisas and Mad Hatters," the song Elton performed at the Madison Square Garden benefit following the tragic event. "It's a song about New York" John quaintly added.
Continuous standing ovations followed all of the evening's standouts, including "Candle In The Wind," "Goodbye Yellow Brick Road," "Philadelphia Freedom," "Honky Cat" (featuring tasty banjo work by longtime guitarist Davey Johnstone), and especially during a rendition of "Rocket Man" that evolved into an extended piano jam augmented by the congas of percussionist John Mahon.
Elton touched on his '80s output, too. He belted out selections from his string of comeback hits from that decade, including "I'm Still Standing," "Sad Songs (Say So Much)" and "I Guess That's Why They Call It The Blues," which were all met with equal amounts of applause and enthusiasm.
There was even a selection from The Union, Elton's 2010 collaboration album with singer/songwriter Leon Russell. While "Hey Ahab" seemed relatively unfamiliar to the crowd, it still drew a hearty response.
While Elton can't quite hit the same high notes he used to in the early days, he more than compensated by delivering solid renditions of all his material, albeit in a lower vocal range. It suited the solemn, solo piano reading of "Nikita" just fine and breathed new life into it.
It's clear that Elton John is appreciative of his loyal followers, too. Constant mugging and interaction with those at the foot of the stage while posing for photo opportunities for the dozens of camera phones that lined the stage was fun, but led way to a more heartfelt message he'd deliver towards the end of the night: "Thanks for buying a ticket. Times are tough right now. I appreciate your loyalty and love," he said right after taking time out to autograph items held in the outstretched arms of the fans pressed against the lip of the wide stage.
And, with that, Elton closed the evening with an encore of his signature song, his very first smash hit single from 1970, "Your Song."
There were no costume changes. Elton sported the same pair of amber Ray Bans the entire night. The stage was unadorned save for a pair of video screens on either side and a plain lightboard above it. Who would have ever guessed the flamboyant, outrageously-clothed Elton John of old would one day scale it back and keep things relatively simple onstage? It's a no-brainer: Elton John doesn't need those things anymore. Now more than ever, his stellar catalog consisting of more than 40 years of hits and outstanding albums speaks for itself. The vocal crowd didn't seem to miss any of the gimmicks, either. All in attendance seemed elated to hear his hits and to be reminded of why they love Sir Elton so much in the first place.
And me, sure I was totally digging the show... I won't lie. I've had the opportunity to see Elton in concert a few times since I became enthralled with him in my elementary school days. I still feel the same rush today when I hear him sing "Crocodile Rock" in all it's campy nostalgia as I always have. I'm thankful that he's still around and that he's still single-handedly able to bring so much happiness and joy to so many people with his music. My beat up, worn-out copy of his greatest hits album hasn't let me down for decades and will continue to thrill me for many more years to come.
Set List:
Saturday Night's Alright for Fighting
Bennie and the Jets
Grey Seal
Levon
Tiny Dancer
Holiday Inn
Mona Lisas and Mad Hatters
Philadelphia Freedom
Candle in the Wind
Goodbye Yellow Brick Road
Rocket Man
Hey Ahab
I Guess That's Why They Call It the Blues
Funeral for a Friend/Love Lies Bleeding
Honky Cat
Sad Songs (Say So Much)
Daniel
Nikita
Sorry Seems to Be the Hardest Word
Don't Let the Sun Go Down on Me
I'm Still Standing
The Bitch Is Back
Crocodile Rock
Encore:
Your Song