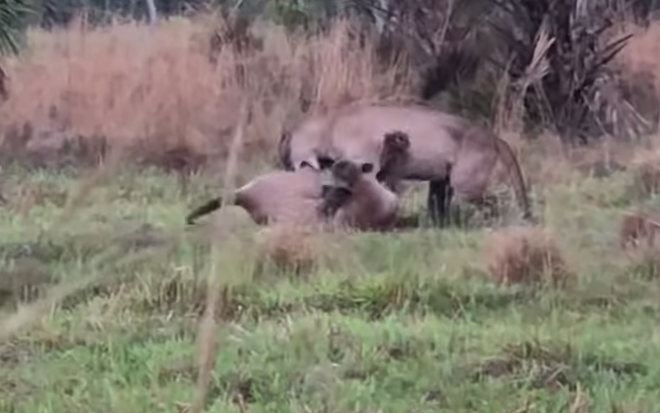 A new video shows two endangered Florida panthers battling over territory, something that's never been captured on film.
On March 31, hunting guide and land manager Andres Pis was camped out in a blind while hunting turkeys with his son just southwest of Lake Okeechobee. He heard a murder of crows squawking in the distance, which he assumed meant a large apex predator was nearby.
"As the gang of crows got closer I peeked out of the right side of the blind and I caught movement, and sure enough it was a young male Florida panther," said Pis in the video description. "As I was pulling the phone out to get some footage of him, out came quite possibly the same cat I saw with my daughter one year and two days before and hit him like a freight train!"
The video—which was uploaded to YouTube on April 2 and has nearly 200,000 views—proceeds to show the two panthers battling it out while the crows cheer them on from above.
Then, in a strange and very Florida twist, a wild boar pops into the mix to fight the panthers.
"As the battle went on, a pack of rather large wild boars came running into the screaming of these to Apex predators," said Pis. "One of the Boars, was really hell-bent on settling some old scores I guess, and came in hot right up to about 6 feet and probably was the reason the younger cat made it out of there alive."
\\<\/iframe\>
Besides showing a boar joining a panther brawl alongside a cheering squad of crows, the video is special for that fact that it shows what's called "intraspecific aggression," which is when animals attack members of their own species. In this case, it's two panthers fighting over territory, an act that can often be deadly. While rare to see in person, according to the Florida Fish and Wildlife Conservation Commission, intraspecific aggression is one of the two most common causes of panther deaths, with vehicle collisions being the other.
Over the years, depleting habits from things like new condos and ranches, as well as new toll roads and highways have drastically contributed to the panther's declining numbers. So far in 2020, the FWC has recorded 10 panther deaths, and estimates that there are approximately 120-230 adult panthers left in Florida.
In an interview with National Geographic, Darrell Land, the Florida panther team leader with the FWC told the publication that this footage is a first of its kind. "I have not seen footage like this before, and it helps us to visualize what happens in an aggressive encounter," said Land.
Support local journalism in these crazy days. Our small but mighty team is working tirelessly to bring you up to the minute news on how Coronavirus is affecting Tampa and surrounding areas. Please consider making a one time or monthly donation to help support our staff. Every little bit helps.
Follow @cl_tampabay on Twitter to get the most up-to-date news + views. Subscribe to our newsletter, too.