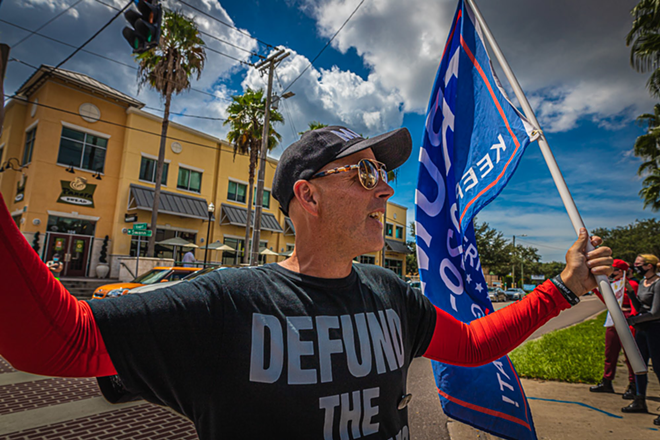 Last July, St. Petersburg protesters expressed serious concerns that threats from a local pro-police Facebook group would lead to real life violence, after members of the group openly called for activists to be injured. Last weekend, a moderator of the group marched alongside counter-protesters in downtown St. Pete, and one of them drew a gun.
On Saturday, Sept. 26, Black Lives Matter protesters headed down Beach Drive in St. Petersburg, and were followed by counter-protesters waving American flags. At one point, according to multiple videos posted to social media, a counter-protester pulled a gun on the protesters.
Though no shots were fired, the St. Pete Police Department says it's investigating the incident. SPPD also says a protester pulled out a small knife before the counter-protester drew his gun, though they provided no evidence of this claim. "The groups separated and no shots were fired and no one was hurt. No property was damaged," SPPD wrote in a media release.
A Facebook Live video posted by Tampa resident and prolific online troll Jonathan Lee Riches, shows him marching alongside the counter-protesters, as well as the individual who pulled the gun, as they trail the BLM activists. In the video, Riches calls out to one BLM marcher by name and says he was recently at his mother's house and "snapped a selfie." He also tells others "we're peaceful people, we just want to keep the community safe."
At around the 23-minute mark, the video appears to show a counter-protester wearing a dark blue shirt and a white and green baseball cap, getting involved in a scuffle. "Where are you St. Pete Police? Where are you? There's fights out here," says Riches, whose Facebook account claims he has over 2 million followers.
In Riches' video, the counter-protester appears to push a protester to the ground, and then square up with a shirtless man, before pulling a gun from behind his back. Riches' video then pans away from the incident.
It's easy to see this as an isolated incident, but Riches is also a moderator of "St. Petersburg & Bay Area Crime Watch," a pro-police Facebook group where members have literally called for violence against Tampa Bay protesters.
In a photo posted on July 29 to Riches' personal Facebook page he stated that he is now a moderator for the controversial group, which has since been renamed to "Pinellas County Crime Watch."
Jonathan Riches was with the group of St. Pete counter-protesters that pulled a gun on BLM marchers. He's also a moderator of a local Facebook group people have feared would lead to real life violence. @rayroa did a deep dive into this group last Julyhttps://t.co/gDNohyFiZO pic.twitter.com/EFa148puWB

— Colin Wolf (@WolfColin) September 28, 2020
This was the same day Creative Loafing Tampa Bay published an article about the group's history of racism, homophobia, and calls for violence.
As we previously reported, many of the group's moderators used fake profiles and were removed the day the story came out. Also, other names used by moderators had criminal backgrounds, which included charges of fraud, trafficking stolen property, drug possession, domestic battery, burglary, and aggravated assault.
In a statement to CL, John Hatfield, a former moderator of the "St. Petersburg & Bay Area Crime Watch," said that a year ago, he started noticing moderators using fake profiles to incite racial arguments.
"They used these fake accounts to incite racism and promote violence towards peaceful protesters in the group for a long time," Hatfield, who originally joined the group to "report local crime and raise awareness for a safer community" wrote. Hatfield said that in private messages, moderators shared personal information which led him to believe that some of the profiles cited in CL's story—specifically Alexis Schmidt, Mark Rodriguez, Evan Geiselman and Madi Dicamillis— belonged to people who were friends in real life.
"They used real photos and had photos of themselves together on other social media platforms, so we knew there was no way all four people could claim stolen identity," Hatfield wrote, adding that one of the sources in CL's story lied to our reporter about having pictures stolen.
Hatfield told CL that he and a group of friends—Nick Cruz, Kevin Knight and Hieu Le—confronted page moderator Mark Grace (Mark Rodriguez) to express disagreement over the addition of new moderators, specifically Riches.
"They wanted to spice things up and bring more racial tension to the group and create a un-welcoming environment for the protesters in downtown St. Pete," Hatfield wrote. "They added Jonathan Riches to fulfill that demand for racial tension as he is heavily involved with counter protesting and does live videos on Facebook to promote the violence towards protesters."
Creative Loafing Tampa Bay could not reach Riches for comment.
However, even before Riches joined the group as a moderator, calls for violence were already present. One post showed protesters blocking traffic, and a response to the post said "if Basement Living Maggots are playing in the streets and get ran over, don't blame the drivers !!!". One profile responded with, "keep on trucking.... right through them" and "Keep driving. Knock one down. They'll move."
A St. Pete protester, who wished to stay anonymous, told CL back in July they worried the group's activity would lead to Black Lives Matter marchers getting hurt during demonstrations. Multiple users also say they've reported profiles and activity related to the group, but Facebook has yet to act.
Riches, who served a 10-year federal prison sentence for wire fraud, is known for filing thousands of frivolous lawsuits, many of which were filed from jail. He even filed an injunction against Guinness Book of World Records for attempting to name him the "the most litigious individual in history."
But Riches also has a history of dubious online activity, especially when it comes to creating fake Facebook pages tied to real events. According to Huffington Post, during the outrage surrounding the Covington Catholic High School students and the Native American protester in Washington D.C., Riches and others "created several Covington-related pages—including a fake page for Covington student Nicholas Sandmann that bashed the elder, Nathan Phillips."
Riches' stunts have also spilled into the real world. He once dressed up as a Muslim and attended a Hillary Clinton town hall in Haverford, Pennsylvania, representing "Muslims for Clinton," reports HuffPo, and he was at Bill Cosby's trial handing out Jell-O pudding pops.
However, lately it seems Riches' theatrics have mostly been focused on Tampa Bay marches and rallies, including a recent "Back the Blue" rally in Clearwater, and as a counter-protester at a South Tampa CVS gathering and a Black Lives Matter protest in New Port Richey.
On Monday morning, Riches shared a screengrab of Facebook event calling for a "Patriotic MAGA Rally" happening this Saturday, Oct. 3, to "save" downtown St. Petersburg.
Correction: In a previous version of this story we stated Riches has over 2 million followers on social media. This has not been verified.
Support local journalism in these crazy days. Our small but mighty team is working tirelessly to bring you up to the minute news on how Coronavirus is affecting Tampa and surrounding areas. Please consider making a one time or monthly donation to help support our staff. Every little bit helps.
Subscribe to our newsletter and follow @cl_tampabay on Twitter.