The Tampa Police Department says it's investigating an Ybor City shooting and armed robbery on the 1200 block of N 20th Street, which occurred in the early hours of Feb. 6 after Friday night revelry ahead of Sunday's Super Bowl.
The incident is the second shooting in Ybor in as many nights. On the morning of Feb. 5, Eddy Durkin—a public information officer for TPD—told Creative Loafing Tampa Bay that officers responded to a separate incident where a gunshot was heard in an alley near the 1800 block of N 20th Street.
The 1200 block of N 20th Street is closer to east Ybor and the Box Factory lofts. The 1800 block of N 20th St. is closer to the Seventh Avenue strip—specifically the corner that is home to the Dirty Shame, Elmer's Sports Cafe, 7th+Grove and the former Naviera Coffee Mill.
In a statement, TPD says the Feb. 6 armed robbery happened at 3:21 a.m. and involved a suspect described as " black male, mid-twenties, approximately 5'11", 200 pounds with shoulder length dreads and wearing dark clothing."
"The victim was transported to a nearby hospital by personal vehicle. He remains in the hospital, currently listed in stable condition," the Feb. 6 report says. "A gray sedan was reportedly seen in the area near the time of the shooting.
Detectives want to speak with the occupants to determine if they have any information that could assist in the investigation."
The number for crime stoppers of Tampa Bay is 800.873.TIPS.
In regards to the 1800 block incident overnight Thursday, Durkin CL, "We did not respond to a shooting on 7th Ave. The location of the gunshot heard & the scene officers responded to is to the north of 7th Ave, not very far from 7th & Grove."
"Officers arrived to find two subjects involved in a physical altercation. One subject, an adult black male, was detained; the second fled the scene on foot. A gun was recovered nearby and taken as evidence. There were no reported injuries," the public information officer added in regards to the 1800 block incident. "Detectives are working to identify and interview the second subject, described as a black male last seen wearing dark clothing and white sneakers involved in this ongoing investigation to determine what, if any, charges may be appropriate."
The incidents come as the Tampa Police union wrote an open letter that expressed disappointment with the NFL and local NFL host committee's decision to "add more events, parties and gatherings after the Tampa Bay Buccaneers made their way to the Super Bowl," arguing that the volume of events, combined with the plethora of unofficial Super Bowl events puts officers in danger and stretches resources.
"Quite frankly, it is irresponsible and it alludes to putting dollars over officer lives and safety," the letter said.
In response to a separate Feb. 6 social media video showing partygoers near Centro Ybor running west on Seventh Avenue, Durkin told CL that officers heard what sounded like gunshots in that area just before 2 a.m. as people began running from the general scene.
"Thankfully, no one was reported to have been struck by a bullet," Durkin added. "One female suffered a laceration to the head after a fall. Detectives are currently working to develop leads and review any available video that local businesses may have."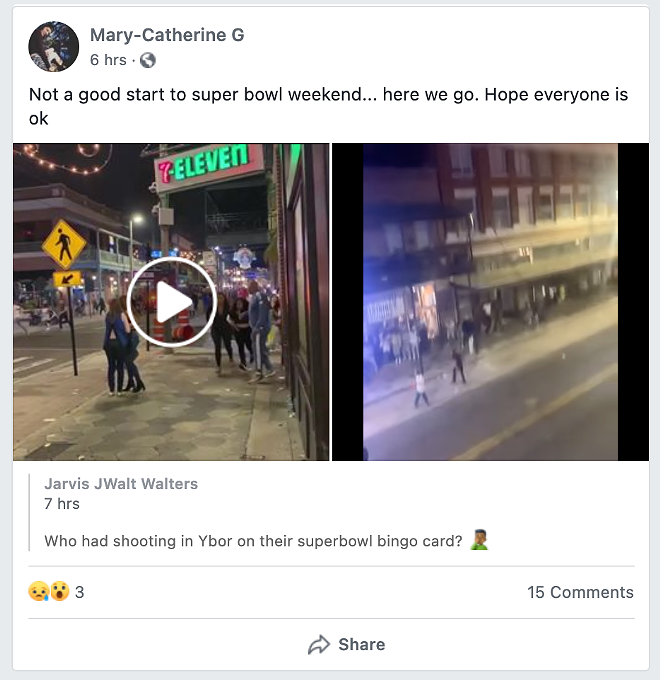 Support local journalism in these crazy days. Our small but mighty team is working tirelessly to bring you up to the minute news on how Coronavirus is affecting Tampa and surrounding areas. Please consider making a one time or monthly donation to help support our staff. Every little bit helps.
Subscribe to our newsletter and follow @cl_tampabay on Twitter.