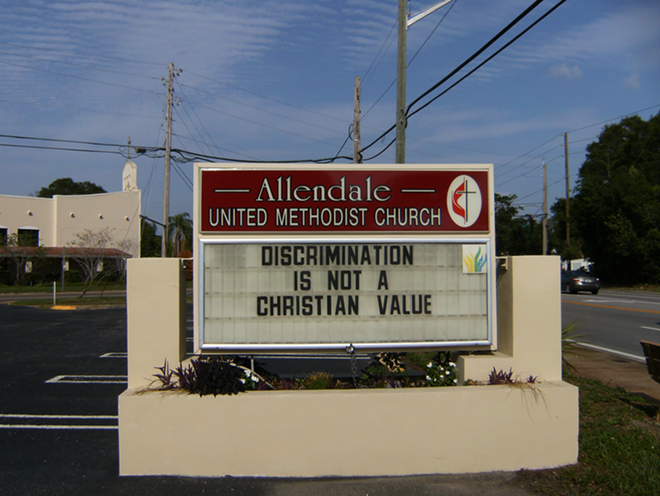 Pastor Andy Oliver felt the world needed some reassurance the day after Election Day in 2016. He created a sign, donned his pastor collar and stood in front of Allendale United Methodist Church, where he began preaching in January.
His message, "we choose love," resonated with passersby of his place of worship on St. Petersburg's 38th Avenue N. just west of Dr. MLK. Jr. Street — so much so that some joined him with their own signs. All of the enthusiasm over the message gave Oliver an idea.
Prior to that, Oliver had been on a mission to rebuild the church's image. In its heyday decades ago, the church had a congregation that numbered in the high hundreds for Sunday service. That number had dwindled to only 60 people by the time Oliver arrived.
He knew that the church was no longer connecting well with its community and needed to start fresh. He wrote his aim into a new mission statement for Allendale, which he wants to be "a place without barriers, a sanctuary for all." When I spoke to him in the lobby of the church's sanctuary, he repeatedly banged his hand against a paper copy of that statement on the wall behind him to refer to certain points. That's how much he abides by it.
"I began to have a vision that we would grow as a church from the outside and from having partnerships and relationships with people in the community," Oliver said.
And now with a presidential administration that's hostile to the demographics he wants to welcome, he knew that that work included fighting its policy changes. If he didn't, well, he would be breaking the vow of United Methodists that he's taken to "resist evil, injustice and oppression."
"It was apparent to me that as the rhetoric of the [Trump] campaign started becoming reality in the [Trump] administration, that we had real work to do," Oliver said.
Part of that "real work" was calling in the support of community activist groups with a simple proposition: "If you are doing social justice work, you have free meeting space here."
"I value community organizing as a tool for change and a tool for developing leaders in the community to resist injustice," Oliver said. "I meet one-on-one with the organizer and get to know them and find out how, in addition to space, we can be helpful to them."
Oliver himself is pursuing a doctorate of ministry in community organizing. Before coming to Allendale, he was the director of communications for the Reconciling Ministries Network (RMN). RMN is a national non-profit organization "working to make the United Methodist Church fully inclusive of LGBTQ people."
Since the start of Donald Trump's presidency, Allendale has housed meetings for about 10 different groups, many of them progressive, like Indivisible FL-13 (referring to the congressional district the group is based in), Women's March Florida Chapter - Pinellas, Fired Up Pinellas and Awake Pinellas. The church is frequently fully booked when you add in the loads of other progressive and church events that it hosts.
"When we rent out space, it's a relationship but it's a transactional relationship. But when we offer this space for free, it's very much a deeper relationship. I felt that was important because we wanted to partner with groups and not just sell space," Oliver said. "By inviting community groups in, their commitment to resisting injustice, which is stronger than many religious folks' commitment to that, has begun to change and transform us as a church.
In March, Allendale hosted two notable speakers: Nina Turner, a state senator from Ohio and Ben Cohen, co-founder of Ben & Jerry's. Oliver took advantage of those events to promote Allendale as a free meeting space for activist groups.
"Those two events filled the sanctuary. I introduced myself, shared about our welcome and said 'If you're working with a social justice group, you have free meeting space here.' And from that, float all of these other groups. We probably get one or two new groups every week, calling and asking us about space," Oliver said.
Allendale also hosted a dinner for local organizers and activists.
"We all came to an activist get-together there and from that, we learned that we could meet there," said Kofi Hunt, an organizer for Floridians against Corruption and Treason (FACT).
"I was really touched because no one has ever done that before. Usually, we organizers are the ones organizing events for others," said Maria Jose Chapa, an organizer for the St. Petersburg Community Protection Coalition (SPCPC). "That's where I met Michael Anderson and Pastor Andy (Oliver)."
SPCPC, whose focus is on the protection of immigrants and refugees, is a coalition of many immigrant advocacy groups like the Florida Immigrant Coalition (FLIC).
Sandra Acton, an activist with Indivisible FL-13, first heard that Allendale was offering space when she went to a SPCPC meeting that Oliver also attended.
"We did a roundtable introduction with the 15 people that were there. So when Andy did his...introduction, he talked about how the church had meeting space and that if there were any groups in the community that are trying to make a difference in the world and they needed space, he said then reach out to him," Acton said. "So I sent him an email a couple weeks after that. I just re-introduced myself to him and told him what the group (Indivisible FL-13) was about and that we were looking for space. He put me in touch with his office staff and we just took it from there."
Oliver's decision to open up Allendale to activist groups filled a meeting space void Hunt saw in St. Petersburg.
"St. Petersburg does not provide a lot of organizing and activist space, so when the church opened its doors, between Michael and Andy (Oliver), a lot of activists went with it. That's why you're seeing a lot of activity at Allendale," Hunt said. "We had not even heard of that space until after the election."
Hunt is also active with Awake Pinellas, which has been around since 2011. In that time, he said the group has met everywhere, from union halls and churches to libraries and even Panera Bread before they found Allendale.
Another activist group, Fired Up Pinellas, experienced a similar dilemma before settling at Allendale in March. After gathering signatures of interest to join the group at the Women's March in downtown St Petersburg in January, the group held its first meeting that same month. The meeting space, the home of Karen Berman, one of its organizers, quickly became cramped with the 30 people who showed up.
The next month, the group met at the Unitarian Universalist Church near Mirror Lake. But that posed a slippery slope with the church. Although the church is welcoming and social justice-minded, Berman said, it was uneasy about hosting Fired Up because of the group's political slant.
"I think just because there's a political skew to what we're doing that it gets tricky for some congregations to actually take a stance, but not with Allendale," Berman said.
Berman was already familiar with Oliver because she previously met him through attending a meeting for FAST (Faith and Action for Strength Together) at another church. But she had no idea about Oliver's meeting space offer. Meanwhile, she kept looking for new places to meet.
"I started calling some names on a list I was given. Allendale was in the As so they were first on the list. So I called and he (Oliver) answered the phone. I said 'I think I just met you'," Berman said. "I told him what we were doing and he immediately said yes, which was a small miracle."
Before landing space at Allendale, Berman tried local libraries and hospitals both of which required nonprofit status and insurance that Fired Up didn't have. She also tried Panera Bread but their meeting space only holds 70 people, which was too small.
While Oliver worked within the church, Michael Anderson, the church's community engagement director, went out to activist meetings and community events to bring in groups. That's how Hunt first found about Allendale.
"(Michael's) an intrepid young man who took time to go out and meet different activist groups. After the election, there were a lot of activist groups (in St. Petersburg) because people care about our democracy," Hunt said. "Michael participated in a lot of those groups and then he invited us to the church. He was telling us 'You should come to Allendale church'."
Marcela Irahola, an SPCPC organizer, met Anderson at a Hillsborough Diversity Advisory Council meeting in Tampa. She later had a hand in starting up the St. Petersburg branch of the Community Protection Coalition, which has met at Allendale since its inception.
"Honestly, I was digging for groups like SPCPC. I'm an immigrant, documented now, but it's a privilege I haven't always had," Irahola said.
At Allendale, Oliver has built a progressive ideas haven, trying to fix what he saw as the church's past indifference to social justice. So in the time of an unusual president comes an unusual church trying to combat the changes Trump is bringing about.
"Allendale is really so progressive and open-minded. Their openness to the entire community is a great thing," Karen Berman said. "I think it's such a major asset to have a church, to have him (Oliver) and his congregation be that open to sharing the philosophy of social justice work and creating an equal playing field for this community."