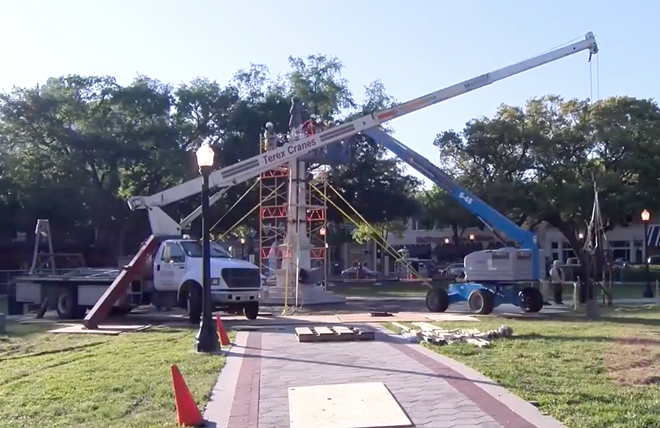 It only took a years-long debate and a federal lawsuit, but the 108-year-old Confederate monument in Lakeland's downtown Munn Park is finally coming down.
The process of moving the Central Florida statue about a mile down the road to Veterans Memorial Park began Friday, with a handful of crews arriving early this morning to start what will be a two-day disassembling process, according to a report from News 13.
The project will cost roughly $225,000 and is expected to be completed by mid-April, once the statue has been reassembled in its new location. In January, District Judge Virginia Hernandez Covington dismissed a lawsuit filed by a Confederate rights group against Lakeland, WTSP reports, after the Lakeland Commission voted to move the statue in December 2017.
The funds for the move were acquired in November 2018, when the commission voted to use red-light camera violation revenue, as well as a few private donations, to green-light the project. \\<\/iframe\>
Stay up to date with Tampa Bay news by subscribing to our newsletters.