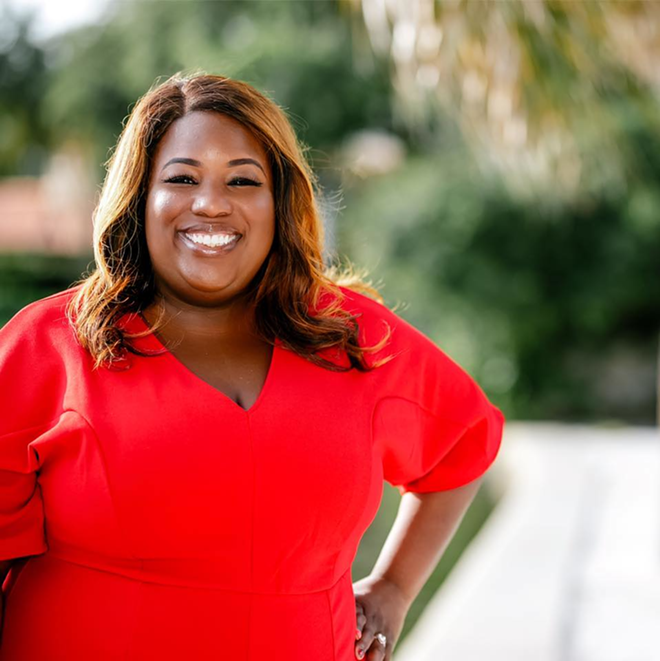 On Tuesday night, Tampa Bay civil rights attorney and community activist Michele Rayner won her bid for State House Representative in Florida's 70th District Tuesday night in a competitive universal Democratic primary. Without a Republican challenger, Rayner, who says she's "ready to lead on day one", has effectively been elected to serve in the Florida House.
The historic win will make her the Florida Legislature's first openly queer Black woman.
"I already have the relationships within the legislature, with the respective House members on both sides of the aisle to get ready to start on day one," Rayner said in a press conference Tuesday morning.
Current House District 70 representative, Wengay Newton, chose not to seek reelection, opting instead to run for the Pinellas County Commission. Newton ended up with 33% of the vote, behind Pinellas County School Board member René Flowers, who secured 52% of the vote.
Michele Rayner's opponents for District 70's open seat included Michele Grimsley—a former legislative aide to Newton—disability rights advocate Mark Oliver, and lawyer Keisha Bell. All candidates in the District 70 race are Democrats; no candidates filed for the Republican primary, and one GOP candidate, Sharon Russ, had not posted any fundraising.
Rayner earned multiple high-profile endorsements throughout the course of her people-powered campaign, including endorsements from State Senator Darryl Rouson (D), SEIU Florida, the Democratic Progressive Caucus of Florida, former Demoncratic gubernatorial candidate Chris King, and Equality Florida.
But equally, if not more important than the endorsements she received locally and across the state is Rayner's personal and professional background, which she believes makes her uniquely qualified to serve as a change-making representative in the Florida House.
Florida's 70th District—one of the state's many gerrymandered districts—is expansive, covering parts of Manatee, Hillsborough, Pinellas, and Sarasota Counties. The candidate elected to this position would travel between the district and Tallahassee as a representative in Florida's House of Representatives, to coordinate with House members, the governor, and the Florida Senate.
Rayner's record as a local civil rights attorney demonstrates a strong commitment to social and racial justice. Two years ago, Rayner represented the family of Markeis McGlockton—a 28-year-old Black man who was fatally shot in a Clearwater convenience store parking lot. McGlockton's murderer had invoked Florida's "Stand Your Ground" law, reigniting heated discussions about the legislation. She also represented Yasmine James, a St. Pete McDonalds employee who fought back against a man who attacked her and another employee on December 31, 2018.
More recently, Rayner represented 70-year-old Barbara Pinkney, who was tased three times last year by a Manatee County Sheriff's deputy in her own home during a police search for her grandson, who had a warrant out for his arrest. Prior to opening her own civil rights and criminal defense law firm, Rayner also served as an Assistant Public Defender in the 13th and 6th circuits.
As a Pinellas County native, Rayner is a well-known activist in her community, advocating on behalf of criminal justice reform, equity in education and healthcare, affordable housing, and climate justice. Her wife, Bianca Goolsby, is an education advocate and founder of Teaching for the Culture, a movement to promote positive change within the educational system.
In addition to her background in civil rights law and community activism, Rayner formerly served as an Assistant Public Defender and legislative aide to former State Senator, Arthenia Joyner, whom she described as "one of the most effective and principled legislators in our modern history" during a July 20 virtual candidate forum hosted by the nonpartisan League of Women Voters of Manatee County. Joyner endorsed Rayner in her candidacy for District 70.
In a July interview with Creative Loafing Tampa Bay, Rayner shared that her priorities for District 70 include housing equity and insecurity, equitable education funding, and criminal justice reform—in addition to the development of an effective response to the coronavirus pandemic.
"In District 70, more than half of the residents use up to 30% of their income on housing. This makes it increasingly difficult for people, at varying income levels, to access affordable housing consistently," Rayner said. "I am committed to passing legislation to repeal the outdated anti-tenant statutes and to ensure the Sadowski Trust Fund is fully-funded and I will vote against appropriating those monies to any other area."
"The issues are intersectional," Rayner said during the Tuesday presser, when asked about her number one priority for the district.
She's also vowed to protect Amendment 4, passed by more than 60% of Florida voters in 2018 to restore 1.4 million convicted felons' right to vote. In addition, Rayner wants to file legislation to address youth incarceration and bolster diversion programs.
In her interview with CL, Rayner shared that one of her proudest moments is when she marched with many Tampa Bay community members in response to the murder of Markeis McGlockton in 2018. Shortly after, Michael McGlockton, Markeis's father, asked her to represent their family as legal counsel.
"It took 25 days to arrest his son's murderer because of Florida's controversial Stand Your Ground law," she told CL. "To have stood with this family and this community in the pursuit of justice and achieve that was a moment of humility and affirmation that we cannot let up in this fight."
When asked about her thoughts on the resurgence of Black Lives Matter protests following the murder of George Floyd by Minneapolis police, Rayner stated her support for those out marching.
"I believe we must continue looking into divesting funds from law enforcement budgets to be reinvested in direct community services. Until there is an overhaul of policing culture that acknowledges systemic racism and dismantles the polarized power dynamics held over communities, calls to divest are needed," Rayner explained. "Taxpayer dollars should be equitably allocated to all quality of life needs like housing, employment, education, healthcare and other programs."
Rayner says she has been out marching with her community, has assisted in setting up bail assistance for those arrested during demonstrations, and says she will "continue to support the fight for justice and do my part to get into 'good trouble' in Tallahassee as well."
Who Rayner beat to win District 70
Similar to Rayner, District 70 candidate Keisha Bell also has a legal background, although primarily in family, personal injury, and worker's compensation law. Bell has named Medicaid expansion, protecting reproductive rights, equitable funding for public education, and anti-discrimination legislation as some of her top priorities if elected to office.
Democratic opponent, Mark Oliver, left his initial campaign to replace Rep. Adam Hattersley (D) of District 59 earlier this year to join the multi-county District 70 race. Hattersley is vacating his seat to run for Congress. Oliver is the CEO and founder of the disability non-profit, Specially Fit, and has an educational background in communications.
Like Rayner, Manatee County resident Michelle Grimsley (note the two Ls in her first name) is another candidate who has legislative experience, as a current aide to Rep. Wengay Newton. Grimsley has secured the endorsements of local elected leaders such as Rep. Dianne Hart (FL-61) and Rep. Wengay Newton himself, who has said Grimsley is "ready to assume the mantel [sic]".
Rayner, in her email to CL, has said, "We must commit to moving from just talking about the issues to acting on solutions."
"I am running because District 70 needs a strong advocate to stand with and fight for our community...The stakes have never been higher, and our residents need a leader who will not back down when advocating for their needs," Rayner added.
Although one Republican, Sharon Russ, had filed to run for District 70 earlier this year, Russ was disqualified from the Republican primary. This made the race a universal primary, giving constituents of all party affiliations the opportunity to vote in the Democratic primary on August 18.
Rayner demonstrates a fighting spirit that will work to her benefit in enacting the changes she wishes to see through for her district, including expanded access to affordable healthcare (while not openly supporting Medicare for All, at least Medicare and Medicaid expansion), affordable housing, increased teacher pay and benefits, and crucial reforms to Florida's criminal justice system.
Support local journalism in these crazy days. Our small but mighty team is working tirelessly to bring you up to the minute news on how Coronavirus is affecting Tampa and surrounding areas. Please consider making a one time or monthly donation to help support our staff. Every little bit helps.
Subscribe to our newsletter and follow @cl_tampabay on Twitter.