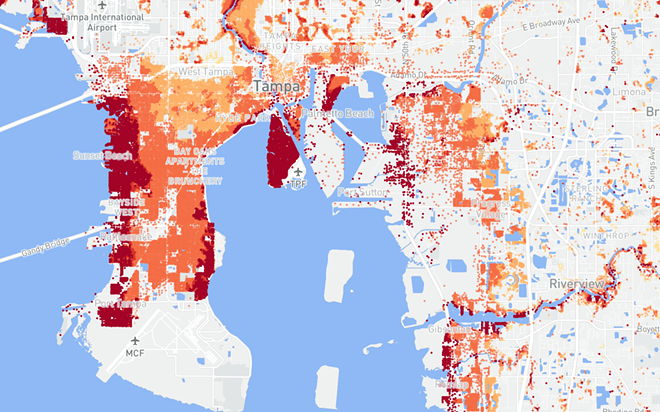 It's no secret that most of Tampa Bay has a high-risk of flooding, but a new data-driven tool is letting residents look at the risk factor for every single address, and the outlook should be concerning to say the least.
Flood Factor, a new app launched Monday by the nonprofit research and technology group First Street Foundation and more than more than 80 data scientists and researchers, claims to have identified 70% more at-risk properties (or 14.6 million) than what FEMA currently classifies as Special Flood Hazard Areas.
In Florida, the major cities most at risk are the typical metros like Tampa, Miami, and Jacksonville. Locally, the tool says that Tampa has approximately 58,414 properties that are already at risk, and within 30 years, about 72,178 will be at risk. According to Flood Factor, almost every single property in Tampa neighborhoods like Davis Islands, Sunset Beach, Channelside and anything along the shores of the Hillsborough River, have an "extreme risk" of flooding.
In St. Petersburg, areas like Shore Acres, Coquina Key, Harbordale, and pretty much all of the barrier island cities will likely be underwater, say the tool.
The data also highlights rarely mentioned areas, like the fact that there's currently 2,649 homes at risk in the Homosassa area, or 2,489 in Hernando Beach.
While similar tools like this have been developed in the past, what makes Flood Factor unique is that it incorporates, for the first time ever, combined flood risk from rainstorms and rising sea levels.
"In environmental engineering, there is a concept called stationarity, which assumes that today is going to be like yesterday, and tomorrow is going to be like yesterday," said Dr. Ed Kearns, First Street Foundation's chief data officer in a statement. "This concept used to work, but with a changing environment it's a poor assumption and no longer does. FEMA's method assumes stationarity, First Street's does not."
Support local journalism in these crazy days. Our small but mighty team is working tirelessly to bring you up to the minute news on how Coronavirus is affecting Tampa and surrounding areas. Please consider making a one time or monthly donation to help support our staff. Every little bit helps.
Follow @cl_tampabay on Twitter to get the most up-to-date news + views. Subscribe to our newsletter, too.