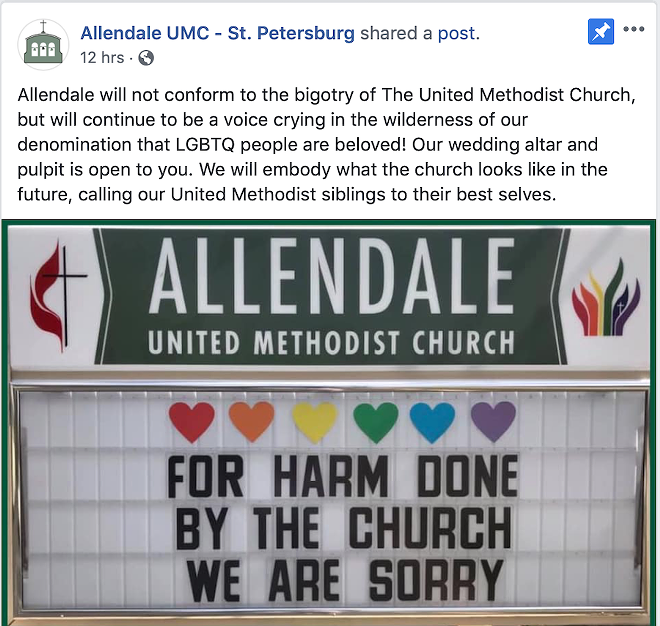 The General Conference of the United Methodist Church may not believe LGBTQ people deserve to get married or serve as clergy, but Allendale UMC in St. Petersburg is pretty clear in their message that the General Conference is wrong. In the wake of the General Conference (one of three national arms of the United Methodist Church) decision Tuesday to not only stand by, but reinforce their stance on same-sex marriage and LGBTQ reverends, Allendale apologized for the General Conference and also announced that, while it would not leave the UMC, it would continue to dissent. To be clear, that means Allendale UMC will continue to perform same-sex marriages and support LGBTQ equality.

What, have Allendale's actions made you think all UMC churches were tolerant, accepting and more interested in being like Jesus instead of about Jesus?
Nope. The national UMC didn't get that memo. The General Conference held a Special Session this past week to discuss human sexuality.

"The purpose is to receive and act on a report from the Commission on a Way Forward, authorized to examine paragraphs in The Book of Discipline concerning human sexuality and to explore options to strengthen church unity," the national UMC said. And lest you think The Book of Discipline is a book of what Jesus' disciples allegedly said, no, it's the UMC book of law.
At 9 p.m. (Central) Tuesday night, at the end of the Special Session, the UMC voted 438-384 to approve a plan that "affirms church policies on homosexuality and strengthens enforcement."
In St. Petersburg, Allendale UMC — who won a 2018 Best of the Bay for "Best WWJD (for reals)" Critics Pick — reacted as our community would (proudly) expect:
\\<\/iframe\>
"Allendale will not conform to the bigotry of The United Methodist Church, but will continue to be a voice crying in the wilderness of our denomination that LGBTQ people are beloved! Our wedding altar and pulpit is open to you. We will embody what the church looks like in the future, calling our United Methodist siblings to their best selves," the church posted on its Facebook page after the vote.
And the church didn't stop there. At midnight, Allendale announced a sort of community/protest worship service this coming Sunday morning.

\\<\/iframe\>
"The community at Allendale suffered a setback this week. Our denomination voted world-wide to double-down on the harm it is doing to LGBTQ people," the post reads.
"We need you, our community, to be with us this Sunday to celebrate Beloved Community. We will sing justice songs from the movement, listen to witness to how we are better together, and specifically lift up those experiencing oppression, and specifically LGBTQ persons, as beloved.
"If you have another place of worship, please be there. We invite our community partners who meet in our space, and area faith communities to send and have representatives short statements of love and affirmation for our unified commitment to creating Beloved Community.
Allendale's response to the actions of The United Methodist Church is going to be three-fold:
"1. To dismantle White Supremacy, a force that even infects our progressive movement in St. Pete. Allendale is going to call on groups (including our worship community) meeting in its walls that are primarily white, to do anti-racism work, and transform our organizing into truly intersectional spaces.
"2. To partner with Equality Florida and any other organizations working to create safe and healthy schools for LGBTQ students, specifically around anti bullying and trans policies.
"3. To continue to dissent from our denominations unjust rules by officiating same-sex weddings and opening our pulpit to LGBTQ persons.
Allendale will be a space for the purpose of calling ourselves and our greater community to its best self."
The United Methodist Church is the second-largest Protestant faith in the United States. The split of the vote Tuesday night indicates almost half the UMC churches don't agree with the General Conference, but Allendale continues to lead the progressive charge for the church in Tampa Bay, not only in LGBTQ rights but in speaking out against racism, xenophobia and hatred.