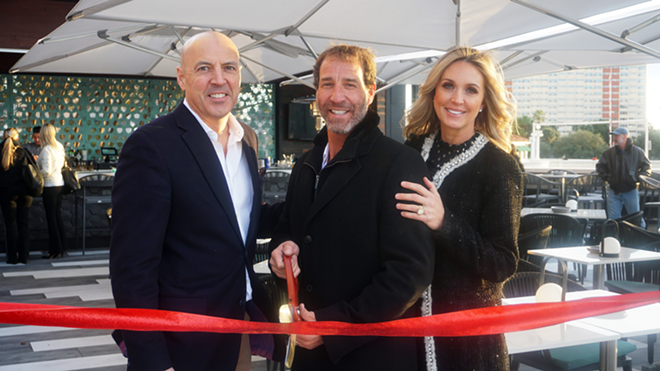 Remedy has premiered to fulfill your hankering for relaxation. Perched just above the Tampa Riverwalk at 400 N. Ashley Drive, Remedy is the new patio hangout from Malio's Prime Steakhouse owners Jen and Derek Iavarone. This wife-and-husband duo teamed up with business partner Greg Minder, the president of real estate development firm InTown Group, to bring the concept to life.
The Iavarones met Minder more than a decade ago at Malio's, where he'd stop by to dine.
"We met here 12 years ago," said Derek, who serves as managing partner for Remedy, "and for the next 12 years, Greg asked when we were going to put a patio on the other side, and I'd tell him to let me get this place up and running."
The decision to put a patio on the other side of Malio's finally came in 2015. That's when Derek told Minder about his idea for Remedy.
"It turned out to be a very complicated real estate transaction. Getting it done is complicated, but getting it operated is not my thing, and Derek is a phenomenal operator and partner," Minder said.
Remedy's prime location next to Curtis Hixon Waterfront Park allows passersby to drop in for a quick bite or craft cocktail while enjoying the Hillsborough River. As such, drinks like Pretty in Pink — a fizzy creation of dry rosé, Aperol, Lillet Rosé and Napa Valley sparkling wine — are featured at the full bar.
"We wanted [to attract] someone that could come out after work for a cocktail," Jen said.
But then again, the food is designed to appeal to all sorts of patrons. Menu items include everything from flatbreads (think Brie and grape, barbecue chicken or margherita) to raw bar appetizers such as shrimp cocktail and oysters. There's even an assortment of imported caviar.
Guests can expect to spend between $12 and $18 on dinner and weekend brunch entrees.
What's more, they should know that the 3,500-square-foot Remedy, which celebrated its grand opening Nov. 28, is an outdoor-only space with 110 seats. Dogs and kids are also welcome.
"Usually on Saturday afternoons, you get more of the friends who want to go out for brunch, then they move that into the Saturday night and going out," said Jen. "On Sundays, it's more family-oriented. We even bring our kids."
Remedy operates 5 to 11 p.m. Wednesday and Thursday, 5 p.m. to midnight Friday, noon to midnight Saturday, and 11 a.m. to 9 p.m. Sunday. Valet parking is available for $5 in the Rivergate Tower garage Monday through Friday and Saturday evenings, while self-parking is offered during brunch service.
"It's a comfortable place where people can come and relax," Derek said. "You can enjoy the park, the view and the Riverwalk. You can just enjoy downtown Tampa."