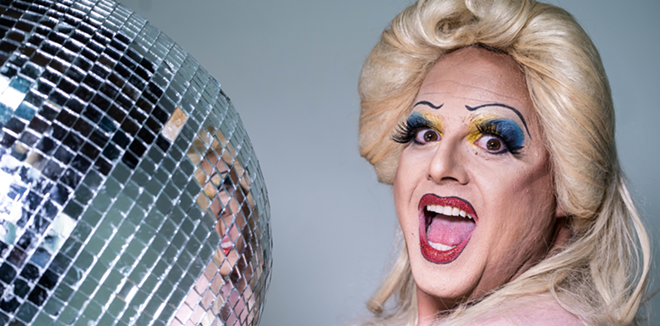 Tampa's Jobsite Theater is celebrating their 20th anniversary as a theater company with another year of stellar programming. CL talked to Jobsite artistic associates — David Jenkins, Spencer Meyers, Katrina Stevenson, and Paul Potenza — about their favorite performances, their best memories, and what they are most looking forward to this season.
This is part three in a series.
Each of the Jobsite cast members we spoke with had their own favorites. Here's what David Jenkins, Spencer Meyers, Katrina Stevenson and Paul Potenza anticipate the most this coming season —and why.
Hedwig and the Angry Inch
The play so nice, they're doing it twice. (Actually, it's quite naughty.)
"Hedwig is my favorite role I've ever played and my favorite experience I've ever had on stage. It changed me as an actor the first time I did it. I'm very excited I get to start off the 20th anniversary season as Hedwig and do the show all over again... It's going to be amazing. To do a dream role once in your life is rare; to be able to do it twice is definitely a blessing." —Spencer Meyers
Edgar and Emily
The Halloween show.
"Halloween is our holiday. Some theater companies do a Christmas show. We do a Halloween show. We're those kids. Edgar and Emily is this great Halloween show because it's Edgar Allen Poe and Emily Dickinson, but it's fascinating. It was one of those scripts. I started reading it and I started laughing to myself as I'm reading this script, and I don't laugh out loud. I don't like that when I'm reading. I don't like looking like a crazy. I look crazy enough when I'm in public trying to learn lines, when I'm literally talking softly to myself. I don't need it when I'm reading. But I started laughing hysterically. It's just a witty show. It's fun — it's got kind of that quick humor, but there's this intelligence factor because it's about these two writers, and it goes in depth, their similarities and the contrasting nature of their writing — her embracing of death and his fear and running from death. And I'm like, 'oh that's brilliant. I never thought about that.'" —Spencer Meyers
"It's all the things that I love about Jobsite. It's new work — it's only been performed once, down in south Florida — it's dark, and twisted and funny. It's a fictional meeting between Emily Dickinson and Edgar Allen Poe, 15 years after Poe died. And so these two great writers, these two great poets, are kind of trapped in a room and end up talking back and forth and reading each other's works, and poking fun at each other's works... With Poe and Dickinson, you think, 'that's going to be heavy and dark.' And it is heavy and dark, but it's also really, really funny... And it's with two of my absolute favorite cohorts. David Jenkins is directing, and Paul Potenza will be playing Edgar Allen Poe opposite my Emily Dickinson." —Katrina Stevenson
"I'm going to play Edgar Allen Poe and I'm going to be working with two people in the company who I probably work with the most — Katrina Stevenson and David Jenkins. I've known those two the longest, so this is sort of sweet. I can't wait to start rehearsal." —Paul Potenza
The Complete Works of William Shakespeare, Abridged
The franchise.
"We call this play the franchise, because I think it's been done more than any other show. It's been done by Jobsite — I don't know how many times we've produced it — all over the place, all over the state. It's just plain fun." —Paul Potenza
"I'm acting in this show, and I haven't done it in 14 years. It's a lot of fun, and one of my best friends, Shawn, is in it. Whenever we can work on a show together, it's just great, because we're both married and old, so we never see each other anymore, really." —David Jenkins
The foursome talked about these shows the most, but this season features three more treats: The rarely-done Othello; an updated version of Ibsen's classic, Hedda; and Nick Payne's Constellations.
"Everything about this season, I'm super stoked about," says Meyers, "It's our 20th anniversary, and it's about bringing it back home, and just really reminding ourselves and everyone else who's part of the community and supports us, 'this is what we're all about.'"