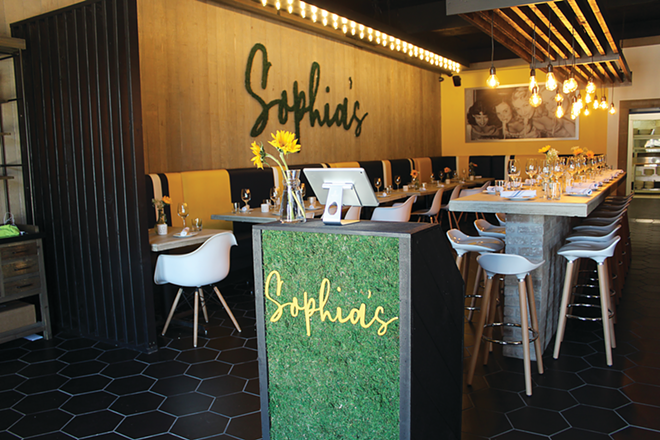 The time has come and the long-awaited Italian joint Sophia's Cucina + Enoteca officially made its debut in the 'Burg last week, on the floor level of the Vintin Hotel at 2349 Central Ave.
Since acquiring the space in February of this year, husband-and-wife owners of Lolita's Wine Market, Alex and Kelly Rodriguez, have been renovating what is now the latest Italian concept in St. Pete.
Initially, the duo was looking for a second location for Lolita's, but when the Vintin space became available, they switched gears and decided to revisit Italian cuisine.
Prior to moving to the Sunshine State, the pair owned a similar concept in Ohio.
"It seemed natural to go back to our roots and focus on Italian cuisine, playing on traditional and modern dishes with a twist," Kelly says.
But what's the significance behind the name Sophia's?
Like Lola, their sassy rescue who's the inspiration behind the Lolita's moniker, Sophie is a golden retriever/Catahoula hound mix.
The new bright concept's aesthetic sticks to crisp yellow and blue stripes accented with heavy greenery; from "Sophia's" elegantly transcribed in the main dining room and a succulent wall near the bar to bouquets of sunflowers and baby's breath at every table, this may become the prime date-night spot in the 'Burg.
Not to mention the playful vintage black-and-white photo of four women competing in a spaghetti-eating contest, which sets the mood for your future carb overload.
Booth, community and bar seating is available for guests; patio and courtyard seating expansion will debut within the coming months to accommodate more diners.
Sophia's is offering up antipasti dishes including calamari and burrata, a range of salads, flatbreads, soups and charcuterie boards. The Italian restaurant is also serving up classics including ravioli, carbonara and clams vongole prepared with parsley, pepper flakes, garlic lemon white wine sauce served over bucatini and finished with a generous helping of shaved parmesan. These plates are served up with craft cocktails or a glass poured from the eatery's significant wine presence.
Dishes range from $6-$38, allowing for large parties to opt for ordering multiple shareable plates to taste a little bit of everything Sophia's has to offer.
The Rodriguezes tapped local pastry chef Megan Barnes to handle dessert offerings, like cheesecake, among other airy delights.
Sophia's serves dinner beginning at 5 p.m. Wednesday through Sunday and is planning on launching happy hour and brunch offerings in the near future.
Reservations are available through OpenTable.
Although St. Pete is buzzing over the latest restaurant, we will be anxiously awaiting the evolution of Sophia's layout and menu offerings. The 'Burg is a sucker for a good brunch.
Stay in the know about Tampa Bay's growing food scene — subscribe to our Bites newsletter!