Categorized as "lost" by the Cultural Landscape Foundation, Daniel Urban Kiley's garden, which opened in downtown Tampa in 1988, has fallen into relative despair, showing only the bare remains of what once was.
Currently maintained through a collaboration between the City of Tampa and Tampa Downtown Partnership group, the garden lives near Curtis Hixon Park at 400 N Ashley Dr. Reconstruction of the garden began in 2006, but stalled due to lack of funding. That's where Friends of Kiley Garden stepped up in January of 2021 with its goal of restoring Kiley's vision within five years.
Cocktails For Kiley
Wednesday, May 12, 6 p.m.
$25 minimum suggested donation.
Florida Museum of Photographic Arts
400 N Ashley Dr., Cube 200, Tampa
tbfad.com/shop
Inspired by European landscape and formal works he saw during World War II, Kiley was intrigued by the emerging social, spatial, and artistic looks he saw. Born in Boston in 1912, he worked on multiple projects throughout the U.S. earning himself the National Medal of Arts in 1997 and the Lifetime Achievement Award from the Cooper-Hewitt National Design Museum in 2002 before he passed away in 2004. As the American-built landscape concept blew up in the 1950s, Kiley was one of few that worked towards modern landscape and architecture; however, like other post war landscape architects, his works weren't properly built or maintained.
"The short story is that we've got this amazingly gorgeous, very expensive garden placed in Tampa along with these buildings, and then we neglected it and it went to hell, and then we halfway fixed it up, and now we are trying to fix it up all the way," urban planner and former Tampa City Councilwoman Linda Saul-Sena told Creative Loafing Tampa Bay.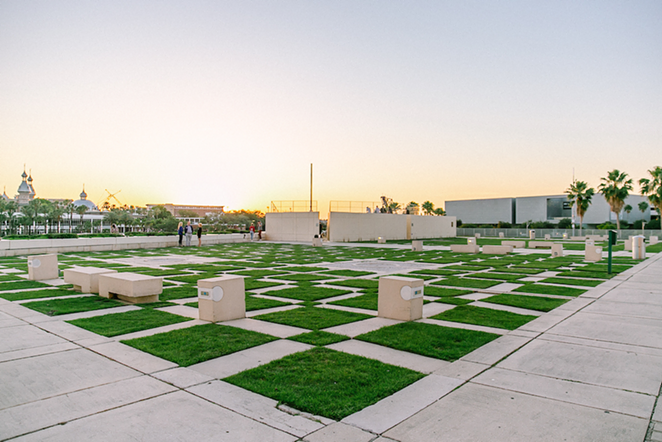 The checkerboard pattern of grass and concrete panels of the 4.5-acre park atop a two-level parking garage follows the mathematical sequence, the Fibonacci series (0, 1, 1, 2, 3, 5, 8, 13, 21... with each number in the sequence being the sum of the previous two). This pattern is a design ratio, like the Golden Mean, that regularly shows up in nature. Architect Harry Wolf also used the pattern in his design for the Rivergate Tower "Beer Can Building" that overlooks Kiley Garden.
Kiley's checkerboard pattern used to feature five rectangular pools, each with its own island and individual tree. The original garden had water features in which circular basins fed into nine narrow concrete runnels, culminating at a 400-foot-long plexiglass bottomed canal. Five palm allées and 800 crepe myrtle trees once stood in the garden.
Currently the main focus is replacing those trees.
"For something that is that central to downtown, and is that pivotal for residents, and close to our hearts to be in such need of repair made my husband go, 'Hey, we should fix this!' Jessie Stehlik, a photographer and downtown resident told CL. A nonprofit she helped found, Friends of Kiley Garden, is following three steps to obtain their goal.
The first step is to raise awareness and let the public know all about the historical and architectural significance the garden holds. From now until next spring, Friends of Kiley Garden—which falls under the umbrella of the Center for Architecture and Design, a nonprofit wing of the American Institute of Architects (AIA)—will raise money and awareness through a series of events like a May 12 cocktail hour at the Florida Museum of Photographic Arts (FMoPA). Lunch and learns are also part of the outreach.
The second step is to foster public and private interests to invest in the project and get folks to eventually attend a FMoPA show—"The Legacy of Dan Kiley," by The Cultural Landscape Foundation—set for April 2022.
The third and final step is to look into the logistics of the renovations. In accessing the current structural and security conditions of the garden, they'll come up with their plan moving forward.
"Tampa is growing like crazy, but Kiley Garden and Harry Wolf's round building and cubes are the very best examples of design in our entire region," Saul-Sena says. "It's a very conscious, very intellectually rigorous creation that makes you feel great being in it because you feel the proper proportions that are put together."
Ron Sill, Vice President at Reynolds, Smith and Hills, who worked on the leaks at the garden, said the trees can be safely replaced. With this good news it's up to the city, property owners and/or the public to come up with about $1.5 million to replace them. During the original installment, the wrong soil and wrong trees were used which caused the roof garden to leak. Sill created these cells to hold the trees and the roots to prevent future leakage.
Tampa reporter Paul Guzzo said the mayor's office did not comment on his story about the revitalization effort, but Stehlik assured CL that the city has been in communication with her group about the project.
"[The city] is putting together a summary of their research that will spell out the steps that would need to be taken and the costs associated with it. When it is complete, they will share it with the appropriate channels," Stehlik said, adding that revamping Kiley is a complex issue and worthy challenges that will only work in time and with the right partnerships. "It's the goal of Friends of Kiley Garden to ease the burden of the City by assisting with fundraising efforts and be a liaison between the community and the city."
"What it's going to take to get the money to do this is a lot of participation in both public and private interests," Saul-Sena added. "We have the president of the local neighborhood organization, Dan Traugott DRANA (Downtown River Arts Neighborhood Association) as one of our founding friends, Shaun Drinkard who works for the Tampa Downtown Partnership, John Tennison, Zora Carrier, Charles Birnbaum, and Sarah Joubert of Gensler."
So far, the group is focusing on the funds to replace the trees. The next step will be to look into cost estimates for refurbishing the amphitheater and fountains after getting a new engineer study to see what all this will entail. The group hopes to get the garden on both the Local and National Register of Historic Places to protect the park, bring more attention to it, and more funding.
Adjacent Curtis Hixon park has a very open layout concept making it an ideal place to host events. "That was not the intention of Kiley Gardens. Kiley Gardens intention was to be a place of serenity, a place to disappear and walk in the woods, in Dan Kiley's own words, in the middle of an urban setting," Stehlik says.
"When you're in a concrete jungle… surrounded by concrete and cars and noise, to have a space to disappear and be connected with nature again is so important not only for our psychological health and wellbeing but also physically. It gives us a space where we can go outdoors and not be brutalized by the sun," Stehlik said. It was heartbreaking for those who worked on the garden to watch as it slowly fell into disrepair. "If we can give that back to them… the memory of their intentions it would be such a beautiful gift to not only [Kiley's] memory but to the residents and tourists and visitors of downtown Tampa."
Support local journalism in these crazy days. Our small but mighty team is working tirelessly to bring you up to the minute news on how Coronavirus is affecting Tampa and surrounding areas. Please consider making a one time or monthly donation to help support our staff. Every little bit helps.
Subscribe to our newsletter and follow @cl_tampabay on Twitter.